West End Classics
The greatest West End shows run for years and years. They are enduringly popular with all sorts of people from every walk of life, striking a deep human chord with young and old alike, nationally and internationally. That's what makes a classic performance: an absorbing storyline, beautiful music, great acting and stunning stage sets. If you've always dreamed of experiencing a West End classic with your family, a loved one or on your own, we're your primary source of good value tickets. Treat yourself to the best London West End theatre classics on offer today, and enjoy the time of your life for less.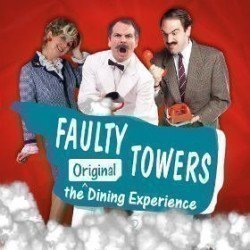 Now Open
Faulty Towers The Dining Experience
Radisson Blu Edwardian
4.8/5
-

based on

273

reviews - (Read reviews)
4.8

273

reviews
Tickets from £77.40
Families (84%)
Couples (97%)
Theatregoers (92%)
i
A 2 hour interactive production set in a restaurant where the audience are the diners who enjoy a 3 course lunch or dinner.  Faulty Towers The Dining Experience debuted in Brisbane on April 24 1997.  Since then thousands of people have enjoyed the antics of Basil, Sybil and Manuel.  This is the 5-star critically acclaimed production constantly in demand throughout the Australia, Europe, United Kingdom, Ireland, Scandinavia, United Arab Emirates ...
Booking until: Saturday, 18 December 2021
Running time: 2 hours
Faulty Towers The Dining Experience tickets
Why you should book your theatre tickets with London Box Office
STAR Member

All our theatre tickets comply with the rules set by the Society of Ticket Agents and Retailers (STAR), and our online ticketing platform is secured with SSL technology and available 24/7.

Dynamic Seating Plans

We have created dynamic seating plans for most West End theatres to make it easier for you to choose your preferred seats.

Instant Confirmation

Your booking is confirmed in real-time with the theatre. Simply show the confirmation on your mobile phone to get your tickets directly from the box office on the day of the performance.