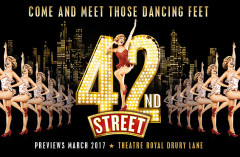 42ND STREET, one of the most joyful and life affirming celebrations of Musical Theatre is to get a big west End revival in March 2017 at the Theatre Royal Drury Lane in a new production directed by Broadway veteran Mark Bramble. Bramble has staged the show many times and is joined by his previous collaborators Douglas W Schmidt (Set Designer) and Roger Kirk (Costume Designer)
Cynics may consider reuniting the team means the producers can save money by utilising pre-existing sets and frocks but that's OK with me because they are glorious. Earlier outings for the production have won numerous Tony and Olivier awards and I loved both the last West End and Broadway revivals.
The show, about creating a troubled musical during American's Depression era, is based on a novel by Bradford Ropes and a classic Black and White film of the same name from 1933. It introduced the world to a number of iconic musical comedy archetypes, especially the dream of an understudy becoming an overnight success when she takes over a lead role on opening night.
Along the way you'll be treated to some of the best show tunes ever written such as 'We're In The Money', 'Lullaby of Broadway', 'Shuffle Off To Buffalo', 'Dames', 'I Only Have Eyes For You', and the glorious '42nd Street' that timeless hymn to the magic of Broadway.
Another legend associated with the production is the extraordinary moment on the opening night of the first production when the producer took to the stage following the curtain call to announce that the director and choreographer Gower Champion had died that afternoon, drawing gasps and screams from the auditorium and Champion's onstage former colleagues, and catapulting the show's success to front page news.
Casting will be announced in the next few months but don't delay, book now, for the kind of musical that has you walking on air with happiness for days afterwards.