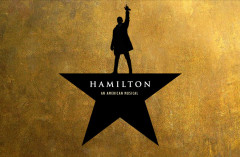 I was in New York recently and decided to check out the smash hit musical Hamilton to see what all the fuss is about. No chance, I pulled every favour I could but no one could get me a ticket, the production is booked up solidly for at least the next year. But they do a daily on-line lottery. You have to register by a certain time and at 4pm you get an email letting you know if you've been successful or not. I imagined if I tried that every day for a week the odds were I'd win a ticket, I mean, how many other people would apply that much determination? Wrong again. 4pm brought disappointment every day.
Then I heard about the live lottery that takes place in front of the theatre before each weekday matinee. Great news - the rest of New York would be at work so I wouldn't have so much competition. I'd just pop by pick up a ticket and get to see that afternoon's show. Wrong again.
Oh, how wrong! I've never seen anything like it. The whole street was so jammed with lottery entrants that the cops were having trouble clearing a way through for the traffic. The draw for the lottery winners was like a circus too with performers from the show entertaining the delighted crowd and being treated like pop stars. With the announcement of each winner there were huge cheers or groans of disappointment until thousands of us were sent away disappointed.
What on earth has prompted such scenes? Can any musical be THAT good. I'm old enough to remember queuing all day with crazy fans to see Michael Crawford in the original cast of PHANTOM OF THE OPERA and the buzz around RENT when it opened in London, and in Dublin when I directed the Irish premiere, but it was nothing like the fever that surrounds Hamilton.
It doesn't even sound good. A show about an obscure corner of American Civil war History sung in hip-hop! But as you've probably heard it swept the boards at last week's Tony Awards and even the Obamas have gone on record as being fans.
Can you imagine David Cameron bothering to go to the theatre and then wanting to recommend what he saw to the nation?
Well perhaps we'll find out because it's just been announced that producer Cameron Macintosh will bring the show to the Victoria Palace Theatre in 2017.
I'd keep an eye open for when they're ready to take bookings and snap up a seat if I were you. Otherwise you could find yourself standing outside Victoria station on a Wednesday morning, waving a lottery ticket and hoping for the best.