Victoria Street, London, SW1E 5EA GB
Quick Facts
Largest Ticket Inventory
in the West End
Real time
seat availability
Choose
your seats
Your booking is processed directly into the box office reservation system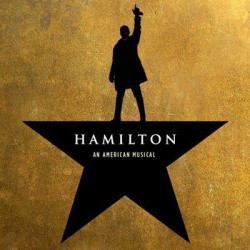 Hamilton
Tickets
4.6/5
-

based on

20

reviews
Booking until: Sunday, 3 April 2022
Running time: 2 hours 45 minutes including interval
Tickets from £24.00
Book tickets
About Hamilton
Age restrictions
Children under 3 will not be admitted. Adolescents under 16 must be accompanied by an adult.
Important Information
As capacity restrictions are lifted, we ask that all audience members bring with them proof of double-vaccination, a recent negative lateral flow test or natural immunity.
Simple ways to demonstrate proof include the NHS COVID Pass, NHS COVID-19 test notification, or an internationally recognised equivalent.
Hamilton description
Hamilton is a musical about Alexander Hamilton, one of the USA's founding fathers and, by all accounts, a jolly good egg. The show's music, lyrics and book come from the talented Lin-Manuel Miranda and the plot is inspired by the excellent 2004 biography of the great man by respected historian Ron Chernow. The results have wowed critics and audiences alike.
The musical made a star-studded Off-Broadway début at The Public Theater in early 2015, where it sold like hot cakes and almost caused riots as people desperately tried to buy tickets. It soon won the 2015 Drama Desk Award for Outstanding Musical plus seven more Drama Desk Awards.
After transferring to Broadway in August 2015 it sparked even more critical acclaim at the Richard Rodgers Theatre. The show's advance box office sales were record-breaking stuff. It has gathered a coveted Grammy Award for Best Musical Theater Album and a Pulitzer Prize for Drama, and has been nominated for an all-time record 16 Tony Awards. Wow.
Miranda worked extremely hard to create a host of show tunes you won't forget in a hurry, including the splendid Who lives, who dies, who tells your story. Lin-Manuel Miranda, who also stars in the show, was nominated for Best Actor, Best Book of a Musical and Best Score of a Musical, and the cast won seven nominations across four acting categories, beating the record 15 long held by The Producers and Billy Elliot.
Hamilton is already a national sensation in the USA, and it's completely sold out over there until the end of 2016. Apparently the US presidential candidates Hillary Clinton and Bernie Sanders love it, as do the Obamas. Michelle Obama praised it to the skies, insisting it was, "the best piece of art in any form that I have ever seen in my life". Barack Obama called it an "incredible musical".
Hamilton the Musical – The story
This is the life story of Alexander Hamilton. The score mashes up rap, R&B and operetta, creating an unmissable portrait of the man whose face graces the ten dollar bill, and without whom the USA would probably be a very different place. He made history, and this musical is set to do the same. As President Obama added, "It's a story for all of us – about all of us."
The cast album was streamed online by literally millions of Americans. And all over the nation people are singing those tunes at work, at home, in the streets. Seldom has a stage musical scored such a massive hit with people of every age, gender and race. Premium tickets were on sale for over five hundred dollars at one stage, pricing many audience members out of the market completely, and tickets on the Black Market were, apparently, going for three times that much. The show's Daily Lottery for ten dollar tickets was so badly over-subscribed the lottery website crashed. All of which means this is probably going to end up one of the shows of the decade, and it's already being eagerly awaited in London's West End.
Hamilton the Musical tickets – A show everyone in the USA adores
Want premium, full price or discount Hamilton the Musical tickets? We always have great availability and you'll enjoy excellent value for money on the complete range of ticket types and seats, cheap to top of the heap.
Next Performances for Hamilton at the Victoria Palace
today
22nd Jan 2022
7:30pm
tomorrow
23rd Jan 2022
2:30pm
Tuesday
25th Jan 2022
7:30pm
Wednesday
26th Jan 2022
7:30pm
Thursday
27th Jan 2022
7:30pm
Friday
28th Jan 2022
7:30pm
Hamilton reviews
4.6 out of 5
based on

20

reviews
What to expect:
Acting
Music
Costumes
Story
Lighting
Recommended for:
Anyone (70%)
Families (75%)
Teenagers (85%)
Couples (80%)
Theatregoers (95%)
Latest customer reviews

Modern opera
Fast paced very energetic show. Amazing singers. Shame the sound system couldn't cope with the rap elements- they came across as incomprehensible most of the time. It's also very long. Great performance by all, especially the King.
Reviewed on 13 January 2022 by Margaret, Southfields, United Kingdom

Not all original cast members, some were better than others.
Reviewed on 11 January 2022 by Monique-michelle, Bromley, United Kingdom

A spectacular experience
Reviewed on 08 January 2022 by Toyin, Eastbourne, United Kingdom

An amazing experience
What a spectacular show, thoroughly enjoyed every second. We went as a family with my teenage daughters and would love to go and watch again!
Reviewed on 06 January 2022 by Joanne, Derby, United Kingdom

Must enjoy rap
If you don't not like rap music you will not enjoy this. Very difficult to follow the story because u have to concentrate so hard on what the words are they are singing. Performers all incredible just not the show for us.
Reviewed on 01 January 2022 by Jessica, Spalding, United Kingdom

Wow
Reviewed on 24 December 2021 by Oliver, Bedford, United Kingdom

A beautifully choreographed masterpiece!
The singing, dancing and stage presentation was exceptional. I throughly enjoy the show from start to finish.
Reviewed on 15 December 2021 by Alan, Niagara On The Lake, Canada

Remarkable
The lyricist & writer (Lin-Manuel Miranda) the performance of the actors/singers, the dancers.. everything was phenomenal.. We laughed & cried & at certain moments were in complete awe.. Yet we weren't only simply entertained, but fundamental questions concerning legacy, hard work, ambition, betrayal, sacrifice, envy & human vulnerability were raised as well..
Reviewed on 11 December 2021 by Noah, London, United Kingdom

Just amazing🌟
Reviewed on 09 December 2021 by Katie, St Giles, United Kingdom

An absolute must
Brilliant occasion it did not disappoint
Reviewed on 08 December 2021 by Dave, Nunthorpe, United Kingdom

Something new
Original development of the nonstop musical form,demonstrating how to use rap to explain and drive the story forward. Quite noisy for old people like me.
Reviewed on 02 December 2021 by Chris, Peterborough, United Kingdom

Difficult to Follow
I left at the Interval--That is the first time in 60 years of Theatre going I have ever done so.
Reviewed on 30 November 2021 by Richard, Wheathampstead, United Kingdom

Always amazing
Reviewed on 24 November 2021 by Gloria, Richmond, United Kingdom

The best show I've ever seen
As the opening song burst into life, I found myself crying with joy. The energy and cacophony of noise overwhelmed me. The lyrics were hauntingly familiar - I know that line, I've heard that somewhere before… I was absolutely grabbed by the performance, the wit and vibrancy of the performers, the movement, music and lighting. The venue Quite simply, this is the best show I've ever had the pleasure of seeing. Outstanding. As a 6 foot 2, 105 kilo Yorkshireman, I'm an emotional wreck
Reviewed on 09 November 2021 by Tom, Edinburgh, United Kingdom