Adelphi Theatre
409-412 Strand, London, WC2R 0NS GB
Now showing at
the Adelphi Theatre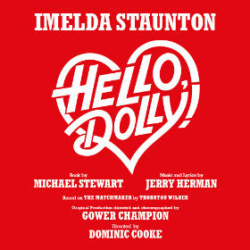 Hello, Dolly!
Adelphi Theatre
Tickets from £23.75
Hello Dolly is a classic piece of musical theatre that has delighted millions of people since it first played on the stage in 1964. It has won masses of awards. Now it's back in the West End and it stars the wonderful Imelda Staunton. Head for the Adelphi theatre to experience on of the greatest musicals of all time, with epic songs to match. What a treat!
Booking from: Tuesday, 11 August 2020
Booking until: Saturday, 6 March 2021
Starring: Imelda Staunton, Jenna Russell, Andy Nyman
Hello, Dolly! tickets
Adelphi Theatre Facilities
Air cooled
Bar
Disabled toilets
Infrared hearing loop
Member of Q-Park scheme
Toilets
Wheelchair/scooter access
Adelphi Theatre Access Tickets
Disabled theatregoers and their carers can get discount tickets. Please phone the Adelphi Theatre access line on 020 7087 7966.
Adelphi Theatre Location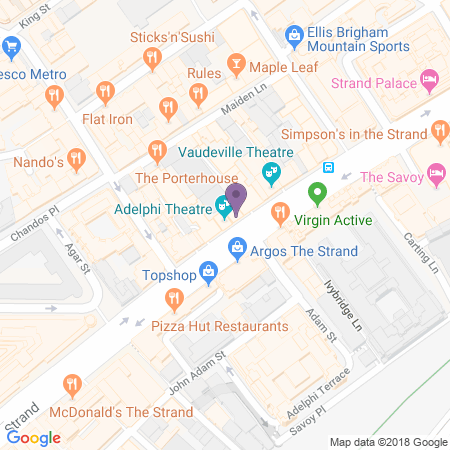 Directions
Travel Information
Nearest Tube station
Nearest Rail Station
Tube lines
Bakerloo
Circle
District
Northern
Piccadilly
Day buses
(Strand) 6, 9, 11, 13, 15, 23, 87, 91, 139, 176
Night buses
(Strand) 23, 139, 176, N6, N9, N11, N13, N15, N21, N26, N44, N47, N87, N89, N91, N155, N343, N551
Adelphi Theatre history
Outside and inside…
The Grade Two listed Adelphi theatre slots neatly in between two older buildings on London's smart Strand. An Art Deco masterpiece with its magnificent eye-like octagonal window, it is typical of the period, with stylish glass doors and a sleek Deco foyer. Inside the 1930s theme continues, with plush seating on three levels and an ornate ceiling complete with intricate central stained glass dome.
Adelphi Theatre architecture and history
The Adelphi Theatre's history goes back much further than the current building suggests. It's actually the fourth theatre built on the site since the early 1800s. The first, which opened its doors on 27th November 1806, was called the Sans Pareil, home to a theatre company that hosted plays, musicals and pantomimes.
In 1819 it became the Adelphi, famed for putting on a series of Charles Dickens productions including the popular Nicholas Nickleby. Demolished in 1858, it rose from the ashes in 1901 as the Century Theatre but was renamed the Royal Adelphi less than a year later.
The current interior dates back to 1930, designed by Ernest Schaufelberg. The 'Royal' part of the name was dropped in 1940 and it has been called 'The Adelphi' ever since. In 1993 it was bought by Andrew Lloyd Webber's Really Useful Group and given a facelift, restoring its beautiful Art Deco features.
Murder and ghostly goings on at the Adelphi Theatre!
In 1897 the famous actor William Terris was stabbed to death on his way to the theatre by the insanely jealous Richard Prince. He died in the arms of Jessie Milward, his mistress and leading lady. Ever since, people have reported seeing his ghost in the theatre.
Past shows at the Adelphi Theatre
The Quaker Girl was a smash hit back in 1908. The Girl from Utah raised the rafters in 1913. The revues Clowns in Clover and The House that Jack Built played at the Adelphi in the late 1920s. In 1930 Ever Green hit the stage to rave reviews for Jessie Matthews, who eventually took to the silver screen. Noel Coward's Words and Music played in 1932 and Cole Porter's Nymph Errant a year later in 1933. Big Ben in 1946 and Bless the Bride in 1947 drew huge post-war crowds.
More recently Dora Bryan, Dame Anna Neagle, Derek Nimmo, Cleo Laine, Jean Simmons, Joss Ackland, Jon Pertwee and Lena Horne have all taken to the Adelphi's stage, as have Robert Lindsay, Emma Thompson, Brian Conley, Les Dennis, Petula Clarke, Elaine Paige and many other top stage, TV and film stars.
What's on at the Adelphi Theatre now? Click here to find out! (Tibo, is this a sensible place for an internal link? If so, we can add this sentence to every venue page, in the same place)
Adelphi Theatre access
There's a ramp at the main entrance. There are no steps between the foyer and the Stalls, but 41 steps to the Dress Circle and 79 to the Upper Circle. All the staircases have hand rails on both sides.
Adelphi Theatre tickets
We're your top destination for a wide variety of seat types and prices, with excellent availability on the full range of Adelphi theatre tickets.