Theatre Royal Haymarket
8 Haymarket, London, SW1Y 4HT GB
Now showing at the
Theatre Royal Haymarket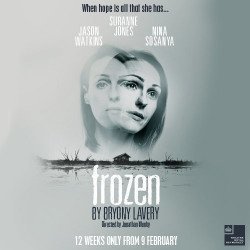 Booking until: Saturday, 5 May 2018
When an American psychiatrist comes to Britain to examine a serial killer, she ends up entangled in both his life and the life of the mother whose daughter he murdered. Bryony Lavery's Tony Award-winning Frozen, starring Suranne Jones and Jason Watkins, plays at the Theatre Royal Haymarket in a harrowing production that looks at the forgiveness and acceptance of unforgiveable transgressions.
Booking from: Tuesday, 15 May 2018
Booking until: Thursday, 17 May 2018
If you've ever been head over heels in love, you'll adore Anton Chekhov's classic play. It's full of laughter, intrigue, vivid emotion and high-octane verbal tennis, an excellent revival of one of Russia's finest literary masterpieces. It's fantastic stuff: intelligent, glittering, fascinating and highly entertaining!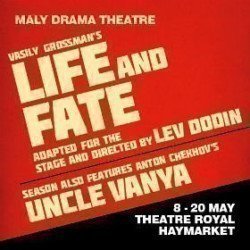 Booking from: Tuesday, 8 May 2018
Booking until: Sunday, 20 May 2018
It's early 1943. Hitler's Germany and Stalin's Russia are in a bitter struggle for their very survival. Life and Fate is a sweeping panorama of Soviet Society, an epic tale of a country told through the fate of a single Jewish family, the Shtrum's.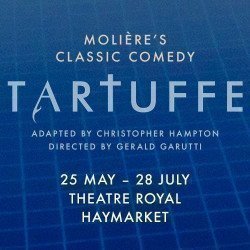 Booking from: Friday, 25 May 2018
Booking until: Saturday, 28 July 2018
Time to brush up your Molière and dust off your French – Tartuffe is coming as a dual language production to Theatre Royal Haymarket from May 2018. Christopher Hampton's production updates this classic tale, "inspired by current world events" …a tycoon with a lust for power and a supposedly pious sidekick who is out for all he can get.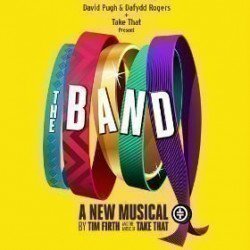 Booking from: Monday, 3 December 2018
Booking until: Saturday, 12 January 2019
Remember Take That? If, like millions of others, you reckon they were the best boy band on the planet, and there hasn't been anything anywhere near as good since they split, this show is for you. Join thousands of Take That fans for a musical that's set to rock the roof at the Theatre Royal Haymarket.
Theatre Royal Haymarket history
From the outside
The Theatre Royal Haymarket's fabulous six pillared frontage is impressive in itself. But inside it's simply stunning, with wonderful painted ceiling murals, gleaming gilt engraving and cool, exotic marble walls… all of which probably makes it the West End's most beautiful theatre.
Theatre Royal, Haymarket architecture and history
A young carpenter, John Potter, built a small theatre on the site of the Kings Head pub back in 1720, in a rough, poor area frequented by thieves, next door to the Cannon and Musket gun shop. A brave venture, when it first opened its doors as the Hay Market the venue had a run of terrible luck. They didn't have permission to stage dramas, which at the time required a Royal Patent or Charter, for a start.
Keen to stay open despite everything, Potter staged concerts and amateur plays, only to be closed regularly by the police. Then, just like in a fairytale, a French nobleman, the Duke of Montague, brought a change in fortune. He'd arrived in the city with his troupe of French Actors and a play, La Fille a La Mode, ready to stage. But neither of the official theatres in town wanted to put on a French show. So the Duke turned to Potter and made him an offer he couldn't resist. While the play wasn't a huge hit, it set the stage and the theatre went from strength to strength from then onwards. It enjoyed its first ever box office success in 1729, a spectacular show called Hurlothrumbo, which ran for 30 nights and packed the house. And the venue never looked back.
The profits from a production of Trilby at the Haymarket paid for Her Majesty's Theatre to be built, and the Theatre Royal Haymarket hosted the first stage production of Oscar Wilde's An Ideal Husband, back in 1893. John Gielgud acted as fire warden during the Blitz, setting up home in one of the theatre's dressing rooms. And the past four years have seen considerable change, with the theatre's revolutionary Masterclass Programme expanding slowly but surely and the theatre becoming a receiving house again for the first time since 1982.
Bear in mind that the Theatre Royal, Haymarket is a different venue from the Theatre Royal, Drury Lane and you'll be fine!
Ghostly appearances at the Theatre Royal, Haymarket
The theatre's colourful former manager, Sir John Buckstone, has been spotted – and heard – throughout the theatre on numerous occasions, by the audience and by the stars who have trodden its magnificent stage, including Dame Judi Dench and Patrick Stewart of Star Trek fame.
Past shows at the Theatre Royal, Haymarket
Recent past hits at the Theatre Royal Haymarket include Treasure Island with Keith Allan, the classic play Waiting for Godot, On the Waterfront, set in 1950s New York and Breakfast at Tiffany's. They've staged Horses' Tales and Sweet Charity, The Rivals, Flare Path, and The Tempest starring Ralph Fiennes.
Theatre Royal, Haymarket access
You'll find disabled access through the side doors on the Haymarket, and exits either side of the doors at the Haymarket foyer. There's one wheelchair space at the back of the auditorium and if you can transfer from your wheelchair, you can use any aisle seat in the stalls.
Theatre Royal, Haymarket tickets
We're a popular destination for a wide variety of seat types and prices, with excellent availability on the full range of Theatre Royal Haymarket tickets.
Theatre Address
Theatre Royal Haymarket
8 Haymarket, London, SW1Y 4HT GB +44 (0)20 7492 0813
Facilities
Air cooled
Bar
Disabled toilets
Infrared hearing loop
Member of Q-Park scheme
Toilets
Wheelchair/scooter access
Theatre Info
Capacity: 880
Year built: 1720