Dominion Theatre
268-269 Tottenham Court Road, London, W1T 7AQ GB
Now showing at
the Dominion Theatre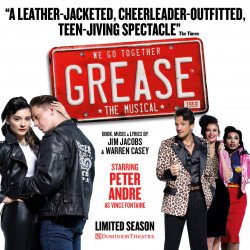 Now Open
Grease
Dominion Theatre
4.5/5
-

based on

235

reviews - (Read reviews)
4.5

235

reviews
Tickets from £18.00
Families (85%)
Couples (87%)
Theatregoers (87%)
i
Grease is the word, and the dazzling stage musical version of the huge hit movie is in town! In 1971 Jim Jacobs and Warren Casey wrote a musical called Grease. In 1978 it was made into a film. The world went Grease crazy thanks to the antics of Olivia Newton John and John Travolta, the costumes, the music and of course the big hair. Now it's coming to the West End.
Booking until: Saturday, 29 October 2022
Grease tickets
Opens 14 Nov 2022
Opens 14 November 2022
Elf Musical
Dominion Theatre
4.6/5
-

based on

137

reviews - (Read reviews)
4.6

137

reviews
Tickets from £24.00
Elf is a musical based on the 2003 smash hit motion picture of the same name, with a score by Matthew Sklar and Chad Beguelin. There's an hilarious book by Bob Martin and Thomas Meehan, also based on the film, and the musical ran and ran on Broadway as well as touring the USA to great popular acclaim. And now it's coming here again.
Opens: Monday, 14 November 2022
Booking until: Saturday, 7 January 2023
Starring: Georgina Castle, Simon Lipkin
Elf Musical tickets
Opens 18 Jan 2023
Opens 18 January 2023
Dirty Dancing
Dominion Theatre
4.6/5
-

based on

428

reviews - (Read reviews)
4.6

428

reviews
Tickets from £27.00
Couples (87%)
Theatregoers (85%)
i
The musical of the movie loved by millions, Dirty Dancing hits the West End stage again. The story of Baby and Johnny is poignant, gritty, incredibly romantic and a wonderful piece of escapism into a lost golden age. The choreography is guaranteed to thrill, the costumes set to delight and the wonderful music, as you'd expect, sits right at the centre of this fantastic production.
Opens: Wednesday, 18 January 2023
Booking until: Saturday, 29 April 2023
Dirty Dancing tickets
Dominion Theatre Facilities
Air cooled
Bar
Disabled toilets
Infrared hearing loop
Toilets
Wheelchair/scooter access
Dominion Theatre Access Tickets
Disabled theatregoers and their carers can get discount tickets. Please phone the Dominion Theatre access line on 020 7927 0929.
Dominion Theatre Location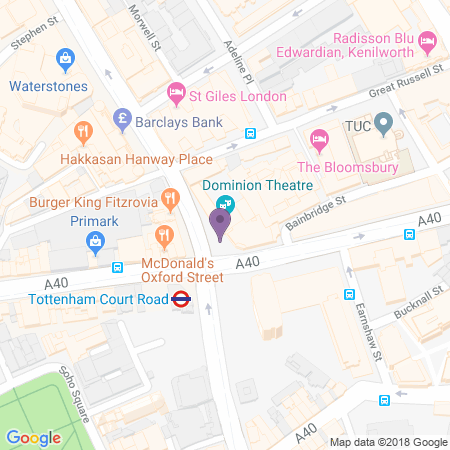 Directions
Travel Information
Nearest Tube station
Tottenham Court Road

Goodge Street
Day buses
(Tottenham Ct Rd Station) 7, 10, 14, 24, 29, 73, 134, 242; (New Oxford St) 1, 8, 25, 55, 98, 176, 390
Night buses
(Tottenham Ct Rd Station) 7, 10, 14, 24, 134, 242, N7, N29, N35, N68, N73, N253, N279; (New Oxford St) 25, 176, 390, N1, N8, N41, N55, N98, N171, N207
Dominion Theatre history
From the outside
The Dominion Theatre, with its massive gold-coloured statue overlooking the foyer, is one of many fine examples of stunning 1930s Art Deco architecture in London's theatreland. The beauty of its clean lines and elegant proportions bely the fact that the site was once a leper colony and , later, a brewery. Inside there's a huge auditorium with sweeping rows of plush seats and an intricate decorated ceiling.
Dominion Theatre architecture and history
The Dominion Theatre was built in 1928 to '29, with a steel frame, pale Portland stone facade and room for almost 3,000 people in the auditorium. Designed by W and TR Milburn, it was intended for live theatre but converted to a cinema in the early 1930s.
Built on the site of the Horse Shoe Brewery, it's a location with a tragic past. When a huge vat of beer burst in 1814, twenty people were either crushed to death or drowned in alcohol.
Closing briefly at the height of the Blitz in October 1940, the theatre re-opened in January 1941.In December 1956 Rank, the cinema people, looked at rewiring and refurbishing the stage and facilities, but the cost was too high and they backed down.
The Dominion was finally used as a live theatre venue in 1957, at long last, with the Judy Garland Show, although they kept showing films too. South Pacific played April 1958, running for more than four years and closing in autumn 1962. Then it was the turn of Samuel Goldwyn's Porgy and Bess. Cleopatra took the stage in 1963 followed by The Sound of Music in '65 and Star, which followed major redecoration in 1968.
The Return of the Jedi opened in 1983 and the '80s also saw the Dominion become a popular venue for gigs, with appearances by bright stars like Dolly Parton. In the mid '80s the musical Time led to more internal reconstruction to house the show's special effects.
There has been plenty of renovation over the past few years, including the creation of a rehearsal space above the foyer, which has seen rehearsals for showstoppers like We Will Rock You, Edward Scissorhands, Les Misérables, Cats, Hairspray and Zorro.
Hauntings at the Dominion!
Audience members have reported seeing the ghost of a brewery worker. Others have heard a ghostly child giggling. There has apparently been plenty of poltergeist activity. And some even suggest that Freddy Mercury's spirit haunts the theatre.
Past shows at the Dominion Theatre
Since the early 1990s the Dominion Theatre has been home to David Ian and Paul Nicholas' Grease, Scrooge - The Musical, Swan Lake, Beauty and the Beast and Notre Dame de Paris. As well as the enormous West End hit, We Will Rock You.
Dominion Theatre access
The Dominion provides access for wheelchair users and other mobility-impaired people.
Dominion Theatre tickets
We're a top destination for a wide variety of seat types and prices, with excellent availability on the full range of Dominion Theatre tickets.