Quick Facts
Largest Ticket Inventory
in the West End
Real time
seat availability
Choose
your seats
Your booking is processed directly into the box office reservation system
This show is now closed.
The Great Gatsby
Tickets
4.5/5
-

based on

77

reviews

from

77

verified reviews
Tickets refunded if your event is cancelled
Real time seat availability
Largest ticket inventory in the West End
Secure online booking
This show is now closed.
Keep me informed
Let me know when tickets for The Great Gatsby are on sale!
Information
Cheap Tickets
Reviews
News
About The Great Gatsby Tickets
The Great Gatsby description
1920s dress encouraged, dancing shoes required!
If you were rich the 1920s - a famously wild era of bootleg liquor, red hot jazz, rampant drug taking, boozing and dancing yourself into a state of exhaustion - were a veritable 24/7/365 pleasuredome. This is the scene set by this thrilling adaptation of F. Scott Fitzgerald's best selling jazz-age classic, a place where the cocktails flow, the music deafens and Jay Gatsby's infamous parties are in full, utterly outrageous swing.
This exceptional show brought the house down at the Vault Festival. Over two and half hours it reveals one of the most powerfully affecting stories of the last century, exploring the enigmatic Jay Gatsby's extraordinarily powerful appeal to the naïve young man who was so very fascinated by him.
The show is beautifully presented by The Guild Of Misrule, The Immersive Ensemble and Perrier-Jouët, an outstanding stage production that has already proved a massive hit with audiences. Add input from theatre luminaries Secret Cinema, Les Enfant Terribles, The Flanagan Collective and Belt Up Theatre, and this is a party you won't want to miss.
The West End transfer venue is being kept a close-held secret until nearer the time, but we do know that the producers are going to encourage audiences to wear 1920s costumes. The show is already a legend in the making for faithfully recreating the sights, sounds and feel of this unique period, following on from the Belle Epoque, as experienced through the admiring eyes of Nick Carraway as he gradually discovers first hand the less than glittering underbelly of a society obsessed with wealth, status, excess and glitz.
The musical has been beautifully adapted by Stephen Sharkey, whose accolades include The May Queen and The Resistible Rise Of Arturo Ui. There's loads of live music supporting a truly inspiring theatrical experience, and the reviews so far are excellent. It's being called "beguiling and captivating", "Riveting and worth travelling far to see", and a piece of "Truly electrifying theatre".
The Great Gatsby cheap tickets
We have a great selection of cheap The Great Gatsby tickets. We can help you save up to 70% on The Great Gatsby tickets! If you're looking for discount theatre tickets have a look below for our latest offers for The Great Gatsby at Gatsby's Mansion, Immersive London.
There are no special offers available at the moment but we still have great ticket prices for The Great Gatsby at Gatsby's Mansion, Immersive London.
The Great Gatsby reviews
4.5 out of 5
based on

77

reviews
What to expect:
Acting
Music
Costumes
Story
Lighting
Recommended for:

Couples (91%)

Theatregoers (95%)
Latest customer reviews
Interesting take on a classic tale
Came across this show by chance and booked two tickets 30 minutes before for show time. I quite enjoyed the show, and had I had more time i would have probably worn 20s style clothing as per the advice given by the theatre. The show is interesting as you get to follow the actors into other rooms, however you need to position yourself accordingly as only a few at a time are allowed to move to another room, thus if you are unlucky enough to miss any of the acts in the adjacent rooms, the show will likely feel monotonous and stale.
Reviewed on 05 January 2023 by Mark, Valletta, Malta
Wonderful, fun experience
Definitely a show for adults. Super acting. The ways that the audience is involved are really clever and don't leave anybody feeling uncomfortable or awkward - you can participate as much or little as you like. Definitely fun to dress up. My husband and I really enjoyed the party!
Reviewed on 31 December 2022 by Hannah, Welwyn Garden City, United Kingdom
A fantastically unique experience!
Reviewed on 03 October 2022 by Tyra, London, United Kingdom
Just a fantastic night out!
Get dressed up and it makes the night so much more fun. Even the bar staff don't break character. I felt fully immersed and a character of the story!!! Best night out!!! Can't recommend enough!
Reviewed on 27 August 2022 by Ross, Edinburgh, United Kingdom
Best immersive experience
Reviewed on 23 July 2022 by Malik, London, United Kingdom
Quite an experience!
I'd read some very contrasting reviews. We followed the advice of watching the film/re-reading the plot beforehand, which really helped (and were prepared for the fact that the venue really does get quite warm). We really enjoyed it. But the key is probably to throw yourself into it. We dressed up 1920s style, joined in the dancing/singing, even had a go at US accents. Its a mash up of theatre, improv, cabaret etc. Its true that there are parts with shouting. parts where you can't here every word, and because action is split between various rooms inevitably there's elements of plot you'll miss. But just accept that and don't expect it to be like a regular theatre outing. I went with three 18-25 year olds all of whom thoroughly enjoyed it. But the trick is to not be a wallflower. If you're the sort who enjoys the Edinburgh Fringe, you'll enjoy this.
Reviewed on 21 July 2022 by Anthony, Robertsbridge, United Kingdom
Amazing
It was absolutely fantastic! I would highly recommend it
Reviewed on 03 July 2022 by Michela, Dumfries, United Kingdom
Fantastic show
This show is brilliant! Would absolutely recommend
Reviewed on 12 June 2022 by Joanne, Benfleet, United Kingdom
Fun at Gatsby's Mansion!
Overall, it was a great experience and we got a brilliant deal on the ticket price!! 1. Set - Good 2. Cast - Great 3. Immersive experience - Great 4. Lighting - Good 5. Music - Poor Firstly, I would definitely recommend this show to everyone! It thoroughly deserves to be fully supported. I do feel there are areas for improvement however and would love to see the following happen: A slightly bigger cast with more and improved choreography when not interacting with audience and more solo and chorus singing. A live jazz band in the main reception room is a must for me and would bring the entire show to life! I say definitely dress for the occasion and go all out, it's a fantastic few hours of total escapism and you will be thoroughly entertained. This was a first for all 4 of us (3 are avid theatre goers) and we were not disappointed!
Reviewed on 06 June 2022 by Tracy, Arbroath, United Kingdom
Great experience
Reviewed on 09 May 2022 by Irene, Chatham, United Kingdom
Stunning
Reviewed on 27 November 2021 by Altug, İstanbul, Turkey
Exceptional experience, must see!
Reviewed on 11 November 2021 by Shuangyue, London, United Kingdom
Best show ever!
I do enjoy going to the theatre, but this immersive experience was amazing! I absolutely loved it! The actors were great! And obviously Gatsby's story is unique. Being involved in the show made it incredible! Plus the decors were awesome. Totally recommend. This is the future of theatre!
Reviewed on 05 November 2021 by Liza, La Conversion, United Kingdom
Great experience, theatre with a twist
We very much enjoyed the show, not expecting it was so interactive and that we should have dressed up for the occasion. It is not really clearly stated that when you book you will be part of the set and preferably should dress up. It would be good to have that clearly stated on the booking confirmation. It is a good experience for any age group, but I would think it is more difficult to follow when you are not a native speaker. At the start it lacks a bit in story line, later on this is getting better. All in all, a very nice, well performed theatre experience with a twist.
Reviewed on 16 February 2020 by Elisabeth, Bracknell, United Kingdom
Joining the show as part of the actor team
Reviewed on 23 January 2020 by Huixin, London, United Kingdom
high energy performances from an enthusiastic and multi-talented cast
Reviewed on 21 January 2020 by Patricia, Eyemouth, United Kingdom
Disappointing
The idea of a more interactive show is interesting and unusual. In my opinion, the choice of the novel was unfortunate. The Great Gatsby is a rather moving story but the whole idea got lost in this show. Too much fuss, too much motion and not much of a story. Not for me.
Reviewed on 28 December 2019 by Alina, London, United Kingdom
Entertaining
Reviewed on 21 December 2019 by Scarlett, London, United Kingdom
Amazing
Reviewed on 13 December 2019 by Lubos, Chorvatsky Grob, Slovakia
Fantasy
Reviewed on 30 November 2019 by Carol, Shabbington, United Kingdom
Didn't like it. Left before the end
Reviewed on 28 November 2019 by Mariia, Istanbul, Turkey
Excellent cast!
Reviewed on 07 November 2019 by Hannah, Newry, United Kingdom
too many words not enough dancing
it was boring
Reviewed on 05 November 2019 by Elena, Moscow, Russian Federation
Worthwhile experience!
Reviewed on 19 October 2019 by Dalene, London, United Kingdom
Delightful, a sui generis adaptation
Reviewed on 27 September 2019 by Andreea, London, Romania
Captivating throughout
Reviewed on 23 September 2019 by Abigail, London, United Kingdom
Brilliant
Brilliant show, great acting and atmosphere. Lovely rustic feel to the set but will be amazing to see the show grown in its new Mayfair home! Perhaps the bar could offer snacks and be open for longer.
Reviewed on 01 September 2019 by Robyn, Wolverhampton, United Kingdom
It would be better if...
It would be better if you could avoid using modern music during the 1920s show - keep mudic authentic to 1920s
Reviewed on 01 September 2019 by Elena, London, United Kingdom
Fantastic Fun!!!!!!
Great fun from the moment we entered Gatsby's Drugstore - would definitely recommend and would love to go again!!!!!!
Reviewed on 01 September 2019 by Jill, Sutton Coldfield, United Kingdom
Lively
A great show. Not quite what we were expecting but definitely entertaining
Reviewed on 26 August 2019 by Eleanor, Christchurch, New Zealand
Dress to impress (roaring 20's)
Reviewed on 22 August 2019 by Pien, Santpoort-noord, Netherlands
just awesome! we loved it! :)
Reviewed on 21 August 2019 by Martina, Zürich, Switzerland
What fun, old sport!
This show is immersive in a really fun way and gives everyone the chance to join in as much as they want. Fabulous production, great value for money- highly recommended!
Reviewed on 19 August 2019 by Bethan, Rotherham, United Kingdom
An immersive must see!
Reviewed on 11 August 2019 by Kamille Bomann, Charlottenlund, Denmark
Unique show
The show was wonderful. We were all part of the story. I loved the dancing!
Reviewed on 10 August 2019 by Sylvia, Richmond, United Kingdom
Super fun evening!
Reviewed on 09 August 2019 by Namratha, Mckinney, United States Of America
Absolutely brilliant
Make sure you interact in the show to get the full enjoyment. Don't be shy.
Reviewed on 07 August 2019 by Sanjiv, Wickford, United Kingdom
Great ambience; acting was incredible including the bar staff!
Absolutely loved this! I would advise anyone going to have either read the book or watched the movie. The only downside was that it was a little too warm inside the venue.
Reviewed on 27 July 2019 by Poppy, Twickenham, United Kingdom
All round fun and completely different from your normal show.
Reviewed on 22 July 2019 by James, Gloucester, United Kingdom
Brilliant, humorous
Interactive, pleasing, exciting.
Reviewed on 08 July 2019 by Louise, Johannesburg, South Africa
A very interactive and amazing show!
氣氛佳,
Reviewed on 09 June 2019 by Jessica Sze Kay, Hong Kong, Hong Kong
Amazing show must see!
Excellent show where you feel your in 1920s. Really enjoyed dressing in 1920s clothes. Fantastic actors and actresses who really involve you in the show. Set and the different rooms are great and definately give you the 1920s feel.
Reviewed on 31 May 2019 by Amy, Lewisham, United Kingdom
1st time but great experience!
even in between all the actors are still in their roles and engaging with people around in the context of the show. great and chance to dress up as well!
Reviewed on 20 May 2019 by Mingxi, London, United Kingdom
The show was fantastic
Reviewed on 22 March 2019 by Jacqueline, South Norwood, United Kingdom
Booked the show last minute as a friend was in town. We did not know what to expect but overall was a great experience. This is a style of play that we have never seen before. It's really not like sitting and watching, you are part of it. Somehow, I would have liked it to be even more immersive! Perfect to discover a new theatre style and/or make a surprise to a friend without saying what it is about. Even if not everyone does it, it worth dressing up 20's style to reinforce the effect of the play. Recommend to go!
Reviewed on 18 March 2019 by Marianne, London, United Kingdom
You feel like a extra in this totally amazing show
You feel like a extra in this totally amazing show
Reviewed on 04 March 2019 by Stuart, London, United Kingdom
One of a kind
It was an immersive masterpiece with great actors and well thought-out side plots. Definitely something to see if you liked the movie
Reviewed on 16 February 2019 by Alex, Gillingham, United Kingdom
Fun party of a show!
This is a fun combination of a play and a party. The friendly actors do a great job of staying in character from the doorstep and the guest list to the end of the evening. Set in a large central warehouse room, with smaller rooms off to the sides, the audience is free to mill around, as there are no assigned seats. With a selection of strong cocktails at the bar and most of the audience in passable period party dress, my guest and I had a great time being ushered from room to room to witness scenes. The actors bring audience members into the action in a minor way, but it's easy to blend in if you have stage fright. I would suggest you spend a few minutes practicing the Charleston before you go, if you really want to make the most of the evening.
Reviewed on 15 February 2019 by Christopher, London, United Kingdom
fun and interactive
Remember to watch the movie or read the book beforehand so you have it fresh in your mind...and of course, get dressed up and participate!
Reviewed on 01 February 2019 by Amanda, Barcelona, Spain
Amazing
The show is amazing!
Reviewed on 25 November 2018 by Giulia, Edinburgh, United Kingdom
Great, have a few before you go!
Great armosphere, shame the bar was not open throughout the performance and drinks being collected off the tables when not finished.
Reviewed on 17 November 2018 by Richard, Boston, Lincs, United Kingdom
Exquisite
Reviewed on 24 August 2018 by Haemi, Gwangju, Korea (south)
An interactive play
Be part of the action, taking place in a set of rooms representing Gatsby's house where big parties take place. Order your drink from the bar, dance with the actors, go around the rooms to see how things evolve in front of your eyes. Participate in the dialogs and actions - not to be scared, usually only need to answer with a yes or not, pretending you are one of Gatsby's invitees to the party. Great night out, would recommend it!
Reviewed on 05 June 2018 by Charalampos, London, United Kingdom
So much more fun than I expected
I really didn't feel like going, and I knew I couldn't drink that night, so the gin went to waste, but it TOTALLY turned me around - it was really fun and i LOVED the interaction, the acting was great, it really felt immersive! if you are someone into improv you would love it!
Reviewed on 28 May 2018 by Katya, London, United Kingdom
Beyond thrilled with our choice. We booked impromptu on London Box office not quite knowing what the 'immersive theatre' would entail. We loved the story line and all the little story offshoots. Acting was fantastic and the actors stuck around to chat to our 16 year old fan girl daughters. Brilliant and highly recommended.
Reviewed on 09 April 2018 by Liezl, Midvaal, South Africa
LIVELY & ENTERTAINING
VERY MYSTERIOUS!
Reviewed on 21 March 2018 by John, Newtownbutler, United Kingdom
Unique and exciting
Like being an extra, my partner loves great Gatsby and said it did the book and film justice, absolutely brilliant couldn't reccomend enough
Reviewed on 05 February 2018 by Paul, Wolverhampton, United Kingdom
Theatrical suprise
Honestly didn't read the small print about this show. Booked it online last minute and thought my mother and I were going to be seated to watch the play. We were surprised to be standing and walking around, almost participants in Gastby's party. It was a little disconcerting at first but we soon got into it. Characters of Tom and Nick were brilliant and the whole experience was very engaging. Only regret was that we had a lot of shopping bags from our day around London and they were difficult to carry from set to set. Be prepared and embrace this unusual but well executed show.
Reviewed on 05 November 2017 by Sinead, Co Clare, Ireland
12

Nov
2019

Review: THE GREAT GATSBY at The Immersive LDN, London
by John Yap | Tuesday, November 12 2019, 13:55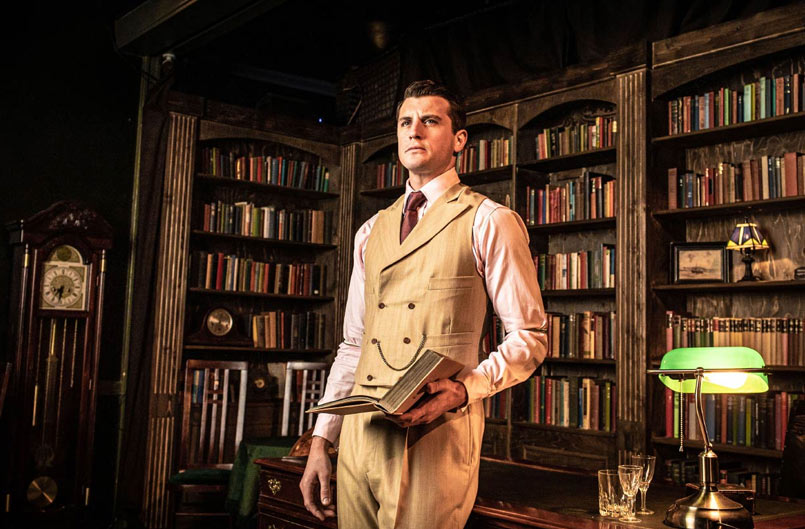 The theme song is "Ain't We Got Fun?" in this 1920's immersive experience of THE GREAT GATSBY and his friends. And Fun is certainly the order of the day.
Review: THE GREAT GATSBY at The Immersive LDN, London