409-412 Strand, London, WC2R 0NS GB
Quick Facts
Largest Ticket Inventory
in the West End
Real time
seat availability
Choose
your seats
Your booking is processed directly into the box office reservation system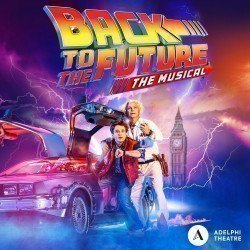 Back to The Future the Musical
Tickets
4.6/5
-

based on

14

reviews
Booking until: Sunday, 3 July 2022
Tickets from £23.50
Book tickets
About Back to The Future the Musical
Important Information
Although there will be no formal COVID certification system in place in relation to your particular performance, for the comfort and reassurance of all our guests we kindly request that all audience members over the age of 11 years take a COVID test within 48 hours of their visit to the theatre.
This request does not apply to guests who have chosen to obtain a Domestic COVID-PASS from the NHS App or website (or national and international equivalents) which demonstrates double vaccination plus 14 days, or a negative test taken within 48 hours, or natural immunity. Please bring your negative test result or COVID-PASS to the theatre with you.
Performance Times
Booking until: Sunday, 3 July 2022
Back to The Future the Musical description
You remember the Universal Pictures/Amblin Entertainment film, Back to the Future? Now it's been made into a brand new stage musical with a book by Bob Gale and fresh new show tunes by the Emmy and Grammy Award-winning Alan Silvestri, plus the six-time Grammy Award-winning Glen Ballard. As if that wasn't brilliant enough, there are extra tunes from the movie itself, including of course The Power of Love.
Direction comes from the Tony-winning director John Rando, who blew audiences away with Urinetown and On The Town. And a dazzlingly good award winning design team is responsible for the look and feel of the new show, including sets and costumes by Tim Hatley, lighting by Hugh Vanstone, sound from Gareth Owen and video from Finn Ross. The choreography comes from Chris Bailey, and you'll love the clever optical illusions from Paul Kieve.
So who stars in this very special new production? You've got Olly Dobson playing Marty McFly, an actor who has thrilled us with his West End work in Bat Out Of Hell The Musical, and of course Matilda. The rest of the cast, for now, is under wraps.
The 1985 film starred Michael J. Fox as Marty McFly and Christopher Lloyd as the eccentric Dr Emmett Brown. The original film earned a whopping £279 million worldwide and all three movies in the series managed to coin an absolutely awe-inspiring amount in total. This is an incredibly popular story.
Just in case you're new to it, here's the plot. When teenager Marty McFly gets accidentally transported back to 1955 in a time-travelling DeLorean car made by his crazy inventor friend, Dr Emmett Brown, he ends up having to make sure his own parents fall in love at high school, to save his own existence.
By all accounts everyone involved in the original movies is really excited about the new show. As the Producer Colin Ingram said, "This show has been six years in the making and we are delighted to be showing it to the people of Manchester first before the rest of the world gets to see it. As I did with Ghost – The Musical, Manchester gets it first, so synchronize your watches because, when this musical hits 88 mph, you're going to see some serious…entertainment!"
Who is this show for?
This show is perfect for people aged eleven or more.
Next Performances for Back to The Future the Musical at the Adelphi Theatre
Saturday
30th Oct 2021
7:30pm
Sunday
31st Oct 2021
3:00pm
Monday
1st Nov 2021
7:30pm
Wednesday
3rd Nov 2021
2:30pm
Wednesday
3rd Nov 2021
7:30pm
Thursday
4th Nov 2021
7:30pm
Back to The Future the Musical reviews
4.6 out of 5
based on

14

reviews
What to expect:
Acting
Music
Costumes
Story
Lighting
Recommended for:
Anyone (79%)
Families (79%)
Teenagers (93%)
Couples (100%)
Theatregoers (93%)
Latest customer reviews

Takes you right back in time!
If u liked the movie u will surely love this
Reviewed on 15 October 2021 by Dj, London, United Kingdom

Futuristic
Great show and great special effects. Their only fault is they don't quite follow the original story line.
Reviewed on 11 October 2021 by Juanita, Reading, United Kingdom

Surprisingly FANTASTIC
The second half is exceptional - quite brilliant. An uplifting experience.
Reviewed on 07 October 2021 by Richard, Upton Bishop, United Kingdom

fun upbeat show
Recommended for those who remember the film. You wont be disappointed. Fun innovative and nostalgic
Reviewed on 02 October 2021 by Paraic, Ashbourne, Ireland

Great show
If you like the films you'll love the show. Plenty of iconic moments.
Reviewed on 30 September 2021 by Martin, Bedfordshire, United Kingdom

Reviewed on 30 September 2021 by Annamaria, London, United Kingdom

Why is this a musical?
They just bolted on music to a good story. It wasn't very good and was just a distraction. The production values with the scenery and especially the DeLorean was excellent
Reviewed on 29 September 2021 by Donald, Sarasota, United States Of America

Brilliant entertainment and terrific effects
Reviewed on 27 September 2021 by Teresa, Sandown, United Kingdom

Brilliant adaptation of the original film, funny, entertaining and excellent presentation
If you liked the film you'll love the show
Reviewed on 26 September 2021 by Dean, Barry, United Kingdom

A fun show with great special effects
Nothing too high brow but just a show that was great fun to watch.
Reviewed on 25 September 2021 by Jane, London, United Kingdom

Fun
I liked the show because it was fun and engaging
Reviewed on 29 August 2021 by Neelam, Datchet, United Kingdom

Promises a Lot But...
This show sticks fairly closely to the storyline from the original film so no surprises. The music is a bit hit and miss and the songs are for the large part instantly forgettable. There are no big original numbers and leaving aside the couple of well known hits you won't leave the theatre humming a tune. The singing voices are good but not great with the exception of Cedric Neal (Goldie Wilson) and Aidan Cutler (Biff) who can definitely carry a song. The sets are a bit claustrophobic and unimaginative not helped by the rather cramped venue. The main draw here is the lighting/ special effects which cheer up an otherwise fairly mediocre show. These are not exactly cutting edge though and some will be a tad disappointed particularly with the rather jerky flying car. This show will probably run for six months or so on the back of the film's huge success but there aren't many reasons why I would want to see this again.
Reviewed on 23 August 2021 by Janine, West Sussex, United Kingdom
27

Sep
2021

Back to The Future The Musical – Production images, new footage, extended run
by London Box Office | Monday, September 27 2021, 10:26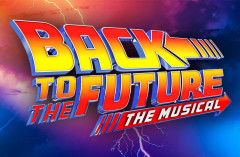 Boy, do we have some exciting news for you! Not only are there new production images to enjoy, there's some brilliant new show footage to enjoy, and the original booking period has been extended thanks to a massive demand for tickets. Back to The Future extends until 3rd July 2022, and it has already attracted a load of 4 and 5 star reviews. Welcome to the magical story that has thrilled millions and is set to delight millions more of us.
Back to The Future The Musical – Production images, new footage, extended run
12

Aug
2021

BACK TO THE FUTURE The Musical – 2021 Rehearsal pictures released!
by London Box Office | Thursday, August 12 2021, 10:51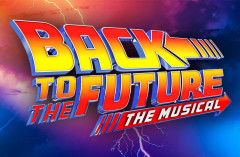 Update for Back to the Future The Musical at the Adelphi Theatre
It's one of the best-loved movies of all time, even though the 1980s special effects are a bit rubbish. The new stage version of the story is brilliant in every way. This is Back To The Future as you've never known it before, and it's going to be mind-blowing. The producer Colin Ingram plus Robert Zemeckis and Bob Gale, the creators of the Back To The Future film trilogy, are thrilled to present rehearsal photos of the show. The magic kicks off at the Adelphi Theatre from 20th August 2021.
BACK TO THE FUTURE The Musical – 2021 Rehearsal pictures released!
23

Sep
2020

Ten Fun Facts about BACK TO THE FUTURE as the Stage Version Announces its West End Opening
by Phil Willmott | Wednesday, September 23 2020, 13:28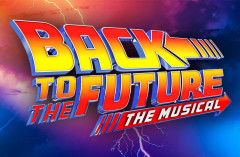 Following the announcement that the long awaited stage musical of the iconic 1980s film BACK TO THE FUTURE will open at the Adelphi Theatre on 14th May, 2021 here are ten fun facts about the original.
Ten Fun Facts about BACK TO THE FUTURE as the Stage Version Announces its West End Opening