Lyceum Theatre
21 Wellington Street, London, WC2E 7RQ GB
Now showing at
the Lyceum Theatre
Lyceum Theatre
4.8/5
-

based on

6274

reviews - (Read reviews)
4.8

6274

reviews
Tickets from £45.00
Families (98%)
Couples (90%)
Theatregoers (90%)
i
The multi-award winning musical, The Lion King, continues to wow audiences night after night with amazing puppets and stage sets, a heart-warming storyline, incredible choreography and a musical score that hits the mark every time.
Booking until: Sunday, 2 June 2024
Running time: 2h 30m (incl. interval)
The Lion King tickets
Lyceum Theatre Facilities
Air conditioned
Bar
Disabled toilets
Infrared hearing loop
Member of Q-Park scheme
Toilets
Wheelchair/scooter access
Lyceum Theatre Access Tickets
Disabled theatregoers and their carers can get discount tickets. Please phone the Lyceum Theatre access line on 0800 912 6971.
Lyceum Theatre Location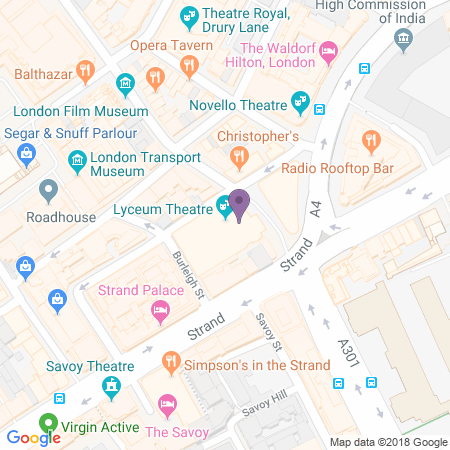 Directions
Travel Information
Nearest Tube station
Nearest Rail Station
Tube lines
Piccadilly
Circle
District
Day buses
(Strand) 4, 9, 15, 26, 76, 91, 139, 176, 341; (Aldwych) RV1, X68, 1, 6, 11, 13, 23, 59, 68, 87, 168, 171, 172, 188, 243
Night buses
(Strand) 139, 176, 341, N9, N15, N21, N44, N76, N9; (Aldwych) 6, 23, 188, 243, N1, N11, N13, N26, N47, N68, N87, N89, N155, N171, N551
Lyceum Theatre history
From the outside
If you like your theatres to look the part, the Lyceum's frontage would do the Parthenon justice. A classical masterpiece and ex-ballroom, stunning with its gorgeous tangerine orange walls and incredibly ornate boxes and circles, it's a firm West End favourite.
Lyceum Theatre architecture and history
There has been a theatre with this name in the area since 1765 and the history of the Lyceum is a long one. In fact its site has been used for theatre for longer than Wellington Street, where it stands, has existed. One of the first theatres to be gas lit, it was also the first to build an over-hanging balcony above the circle.
In the 19th century, the Lyceum Theatre hosted the Sublime Society of Beef Steaks, whose 24 or so members met there to eat, drink and be merry! It held the first ever London exhibition of waxworks by Madame Tussaud back in 1802.
Bram Stoker, of Dracula fame, worked there as business manager in the 1800s and 1809 saw a defining moment when the Theatre Royal was burned down, after which the Theatre Royal's company moved to the Lyceum. This led to the premises being given a licence to put on plays and brought about a golden era of theatrical excellence.
In 1815 the Lyceum Theatre was completely rebuilt by Samuel Beazley but a large part of it burned down again in 1830. A replacement opened in 1834 but only lasted seventy years, during which the famous actor Henry Irving turned it into London's finest playhouse. Then fire destroyed everything and the entire building was knocked down. The replacement, which we see today, opened in 1907, after Irving's death in 1905.
The '70s brought pop stars like such as Bob Marley and Iggy Pop to the Lyceum's stage and in 1996, after being empty for a decade, it was re-born for the sixth time thanks to Apollo Leisure. They invested millions to bring the venue back to its former glory. Today it owned by The Ambassador Theatre Group.
Ghostly goings on at the Lyceum Theatre!
In the 1880s the theatre's famous ghost first appeared, spotted by a couple who swore they'd seen a lady in the stalls balancing a head in her lap. Allegedly the head belongs to a man who once owned the land the theatre sits on, who was beheaded.
Past shows at the Lyceum Theatre
The Lyceum has been home to Jesus Christ Superstar and Oklahoma in the late 1990s, and previous to that was home to a collection of classic gigs from bands like The Grateful Dead, The Clash, Led Zeppelin, The Who, U2, The Smiths and Culture Club.
Lyceum Theatre access
The Lyceum Theatre aims to be as accessible as possible and offers various accessibility services and facilities including space for wheelchairs and scooters.
Lyceum Theatre tickets
We're your first destination for a wide variety of seat types and prices, with excellent availability on the full range of Lyceum Theatre tickets.