West End News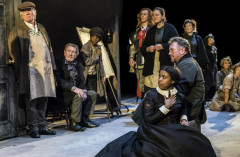 15 Oct 2017 by Phil Willmott
Read more In this strange mix of medieval pageant and modern morality play John Heffernan's engagingly plays a foppish St George, rescuing his lady, the feisty Elsa (Amaka Okafor) from a deliciously dastardly dragon, played by Julian Beach like a villain in a...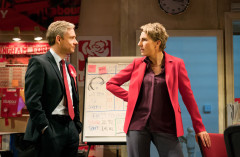 13 Oct 2017 by Phil Willmott
Read more The BIG sensation in London Theatre at the moment is the young playwright James Graham. In a few short years he's gone from pub theatre to having two major plays running in the West End, in neighbouring theatres on St Martins Lane. He really is an...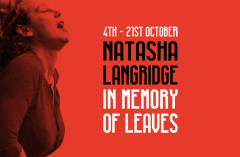 12 Oct 2017 by Justin Murray
Read more In Memory Of Leaves, written and performed by Natasha Langridge, is floating on its performance barge on to London communities affected by gentrification: Kensington, Camden, Hackney. Taking the form of diary entries written from 2014 to the present day, it...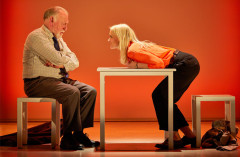 11 Oct 2017 by Stuart King
Read more Simon Stephens' two-hander, Heisenberg: The Uncertainty Principle first seen on Broadway back in 2015, pairs the superb talents of Anne Marie Duff with Kenneth Cranham for the play's West End run at Wyndhams Theatre. Integral to the plot, is a 30-year...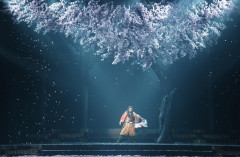 07 Oct 2017 by Nicola Wright
Read more Two elderly women, their backs hunched, climb the steps to the stage and slowly draw back two vast doors to reveal the epic opening of The Ninagawa Company's production of Macbeth. With the three witches played by male actors in full Kabuki dress the scene is...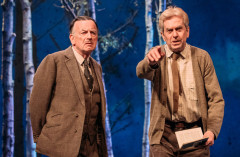 06 Oct 2017 by Stuart King
Read more At a time when the subject of immigration has re-emerged as a political hot potato - as it was in the late 1960s - WHAT SHADOWS (currently playing at The Park Theatre), examines the life of Conservative minister Enoch Powell, whose contribution to the debate...
Customers Favourite Shows
Latest Customer Reviews
London
Box Office
All our theatre tickets comply with the rules set by the Society of Ticket Agents and Retailers (STAR), and our online ticketing platform is secured with SSL technology and available 24/7.
The information provided on this website is updated on a daily basis to make sure you get our latest availability along with the best offers. With London Box Office you can buy your tickets for all of London's West End productions with confidence!