West End News
14 Dec 2017 by Phil Willmott
Read more With Follies providing the perfect Christmas treat for grown ups in the National Theatre's biggest auditorium, there's now a major family show in the proscenium arch venue, the Lyttelton. It's Pinocchio, the classic story of a wooden puppet who faces many...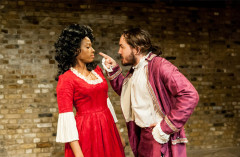 14 Dec 2017 by Monty Leigh
Read more A story of four unique same-sex relationships from across the ages, theatre company Forward Arena's production is ambitious and undeniably fresh in its storytelling. We are greeted with a complete absence of set, which is necessary for a production that...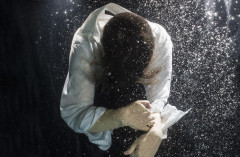 13 Dec 2017 by Justin Murray
Read more Now in its second instalment at the Barbican, Transpose brings together an evening of spoken word, song, and music, allowing trans and non-binary artists to tell their own stories, speak their own truth. This evening's lineup comprised story and song by...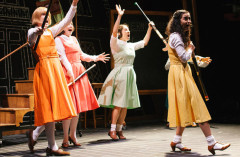 13 Dec 2017 by Jess Morrissey
Read more Well this is a night of jolly good fun. Daisy and her comrades most certainly pull it off in this utterly spiffing revival of Denise Deegan's award-winning play. It is 1927 and Grangewood School for Girls is celebrating its 25th Anniversary. The Upper...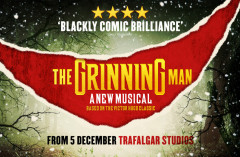 13 Dec 2017 by Hugh Wooldridge
Read more Having been widely acclaimed at its debut at the Bristol Old Vic, I saw the second preview of The Grinning Man in its new London home, the Trafalgar Studios. The Grinning Man is a fantastic reimagining of the classic novel by Victor Hugo (Les Misérables...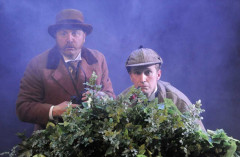 12 Dec 2017 by Hugh Wooldridge
Read more For a pre-Christmas and early January romp, hie thee to The Hound of the Baskervilles at the splendid pocket-sized Jermyn Street Theatre. First seen at the English Theatre Frankfurt, three hugely talented and versatile actors (Shaun Chambers, Max...
Customers Favourite Shows
Latest Customer Reviews
London
Box Office
All our theatre tickets comply with the rules set by the Society of Ticket Agents and Retailers (STAR), and our online ticketing platform is secured with SSL technology and available 24/7.
The information provided on this website is updated on a daily basis to make sure you get our latest availability along with the best offers. With London Box Office you can buy your tickets for all of London's West End productions with confidence!