West End News
18 Jul 2017 by David Scotland
Read more Kevin Elyot was a prominent playwright and screenwriter. He is best remembered as the creator of the comedy My Night with Reg. Winner of the Olivier award for Best New Comedy when it was first produced in 1994, the play was recently revived in a production...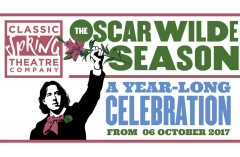 13 Jul 2017 by Phil Willmott
Read more After a popular and critically acclaimed time running Shakespeare's Globe Theatre Dominic Dromgoole has moved on to a new project aiming to demonstrate the power of the proscenium arch. What this describes is the traditional theatre set-up where by the...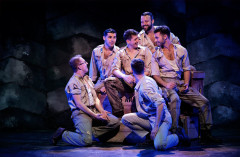 13 Jul 2017 by Phil Willmott
Read more It's great that London audiences, including me, are finally getting a chance to see Yank! the American musical by composer Joseph Zellnik with book and lyrics by his brother David. New Yorkers have been raving about it to me for years. The revival currently...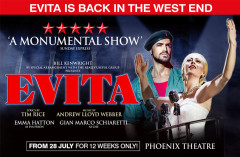 13 Jul 2017 by Phil Willmott
Read more Producer Bill Kenwright's rather elegant production of the classic Tim Rice, Andrew Lloyd Webber musical Evita is headed black to the West End and it's going to be much better than the last time. How can I be so sure? Well there are two very good reasons...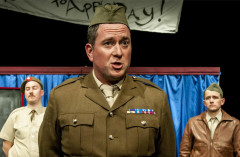 10 Jul 2017 by Phil Willmott
Read more What a treat to duck out of the sticky london heat and descend into the comparatively cool air conditioned Jermyn Street Theatre. This month a genuinely funny comedy, Instructions for American Servicemen in Britain, awaits you, performed with infectious...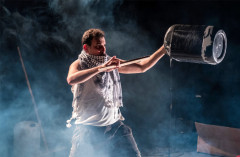 10 Jul 2017 by Nicola Wright
Read more The play is performed solely by Palestinian actor Ahmed Tobasi but thanks to the brilliant production team, sound by Max Pappenheim, lighting by Andy Purves, movement by Lanre Malaolu, set design, Sarah Beaton and directed by Zoe Lafferty this one man play...
Customers Favourite Shows
Latest Customer Reviews
London
Box Office
All our theatre tickets comply with the rules set by the Society of Ticket Agents and Retailers (STAR), and our online ticketing platform is secured with SSL technology and available 24/7.
The information provided on this website is updated on a daily basis to make sure you get our latest availability along with the best offers. With London Box Office you can buy your tickets for all of London's West End productions with confidence!