West End News
21 Nov 2017 by Stuart King
Read more Mark Rutland marries glamorous, habitual thief Marnie and is soon confronted by the many-layered psychological issues of her past. Alfred Hitchcock famously adapted Winston Graham's gripping thriller for the cinema in 1964, and the story has now received the...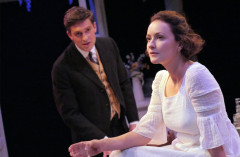 20 Nov 2017 by Monty Leigh
Read more Revived in a new adaption by Howard Brenton, August Strindberg's Miss Julie seems to have acquired a breath of new life in this 70 seat studio-theatre. This kitchen sink drama set in Sweden on Midsummer's Eve starts with Kristin, The Cook (Izabella...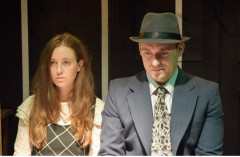 18 Nov 2017 by Daniel Perks
Read more Gregg Masuak's new production, Flycatcher, is a blend of unique styles that British theatre far too often lacks – a dark, comic thriller. Madelaine (Emily Arden) has that Addams Family vibe – morbid and eerie, but intriguingly avant garde. There's...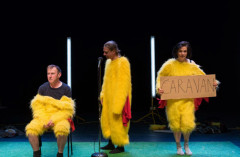 17 Nov 2017 by Jess Morrissey
Read more Forced Entertainment is an award-winning company that has been thrilling, insulting, enlightening and confusing audiences for over thirty years. In that time the troupe has garnered an avid following, both in Britain and abroad. Others, however, find the...
17 Nov 2017 by Stacey Tyler
Read more Phoenix Rising is a site specific piece first staged in 2013 - this 2017 version is in memory of an inspirational cast member who unfortunately passed away last year. Set in the underground car park of Smithfield Meat Market, this raw, emotional and brave...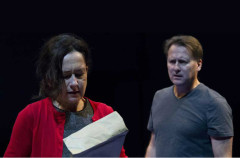 17 Nov 2017 by Nicola Wright
Read more The small intimate space of the Park 90 is the perfect setting for this powerful play written by Matthew Campling. The Secondary Victim in the title refers to therapist Ali, who receives a letter stating the allegations of sexual misconduct by her, to a...
Customers Favourite Shows
Latest Customer Reviews
London
Box Office
All our theatre tickets comply with the rules set by the Society of Ticket Agents and Retailers (STAR), and our online ticketing platform is secured with SSL technology and available 24/7.
The information provided on this website is updated on a daily basis to make sure you get our latest availability along with the best offers. With London Box Office you can buy your tickets for all of London's West End productions with confidence!