Gielgud Theatre
35-37 Shaftesbury Avenue, London, W1D 6AR GB
Now showing at
the Gielgud Theatre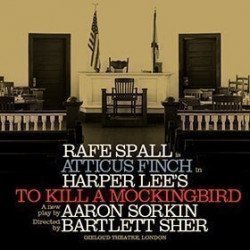 Now Open
To Kill A Mockingbird
Gielgud Theatre
4.7/5
-

based on

15

reviews - (Read reviews)
4.7

15

reviews
Tickets from £33.00
Families (87%)
Couples (100%)
Theatregoers (93%)
i
To Kill a Mockingbird is a 2018 play based on the 1960 novel of the same name. It was written by the brilliant Harper Lee and has been adapted for stage by Aaron Sorkin. It opened on Broadway in late 2018, a well-loved story set in the 1930s Deep South. This powerful tale of racial injustice deals with the fate of a black man, Tom Robinson, who is accused of raping a white woman. It stars the lawyer Atticus Finch and his daughter Scout, who together bring fresh hope to a community in crisis. Don't miss this. Seriously, it really is amazing.
Booking until: Sunday, 4 December 2022
Running time: 2 hours 50 minutes (One interval)
To Kill A Mockingbird tickets
Gielgud Theatre Facilities
Air cooled
Bar
Disabled toilets
Infrared hearing loop
Member of Q-Park scheme
Toilets
Wheelchair/scooter access
Gielgud Theatre Access Tickets
Disabled theatregoers and their carers can get discount tickets. Please phone the Gielgud Theatre access line on 034 4482 5137.
Gielgud Theatre Location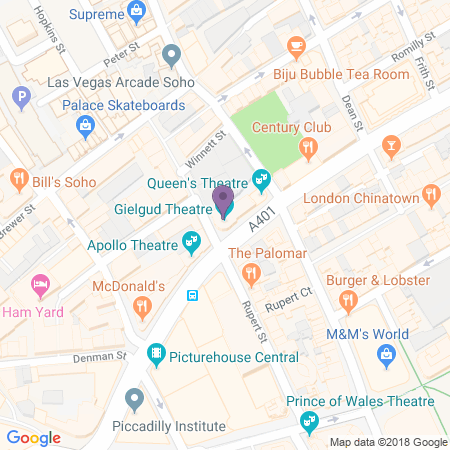 Directions
Travel Information
Nearest Tube station
Piccadilly Circus

Leicester Square
Nearest Rail Station
Tube lines
Bakerloo
Piccadilly
Northern
Day buses
(Shaftesbury Avenue) 12, 14, 19, 38; (Regent Street) 6, 13, 15, 23, 88, 94, 139, 159, 453
Night buses
(Shaftesbury Avenue) 14, N19, N38; (Regent Street) 6, 12, 23, 88, 94, 139, 159, 453, N3, N13, N15, N109, N18, N136
Gielgud Theatre history
From the outside
A magnificent corner building, highly decorated and beautifully ornate, the Gielgud Theatre is absolutely palatial in typically Edwardian style. Inside the seats encircle the stage in a practical, intimate and attractive horseshoe, with an interior a visual feast of cream, coral and gold lit by an immense chandelier.
Garrick Theatre architecture and history
The Garrick theatre first opened in late December 1906, originally built for and called the Hicks Theatre after the famous actor, manager and playwright Seymour Hicks. It was designed by W.G.R. Sprague in classic Louis XVI style, and was built as a sister theatre to the 1907 Queen's Theatre on the adjacent corner of Shaftesbury Avenue.
In 1909, the theatre was renamed The Globe, after the original theatre of that name was knocked down in 1902 to create the Aldwych. The first production was a play written by Winston Churchill's mother. The theatre's tabby cat, called Beerbohm, appeared on stage regularly and was incorporated into plays often until he died at the ripe old age of twenty. Look out for his portrait, hung along the corridor near the stalls.
Totally refurbished in 1987, bringing back its splendid circular Regency staircase, oval gallery and tower back to sparkling life, the theatre was finally re-named The Gielgud in 1994, in honour of the British actor Sir John Gielgud and to avoid confusion with the 1997 opening of Shakespeare's re-imagined Globe Theatre on the South Bank of the Thames.
In 2003, Sir Cameron Mackintosh announced plans to refurbish the Gielgud again to create a common entrance with its sister, the Queen's Theatre, which faces magnificent Shaftesbury Avenue.
In 2006 Delfont Mackintosh Theatres took over from Andrew Lloyd Webber's Really Useful Theatre company and the work on the facade began in early 2007.
Past shows at the Gielgud Theatre
Call It A Day, a popular play by Dodie Smith, ran from 1935 and put on an impressive 509 performances. Terence Frisby's classic, There's a Girl in My Soup, ran for 1,064 performances from 1966, a record that wasn't broken until Sir Andrew Lloyd Webber's production of the Olivier Award-winning comedy Daisy Pulls It Off in 1983. In 1987 the play Lettice and Lovage was a huge hit starring British actress Maggie Smith. The Garrick has shown a handful of Alan Ayckbourn premieres and Oscar Wilde's comedy, An Ideal Husband, was a show stopper in 1992. The Garrick has also presented One Flew Over the Cuckoo's Nest, Shakespeare's Macbeth, The Mikado, The Robin Williams classic Weapons of Self Destruction, the famous musical Hair, Yes Prime Minister and many more stellar performances.
Gielgud Theatre access
The Gielgud Theatre is right next to The Queen's Theatre, so make sure you get the right door! There's access for wheelchairs and scooters.
Gielgud Theatre tickets
We're a trusted destination for a wide variety of seat types and prices, with excellent availability on the full range of Gielgud Theatre tickets.