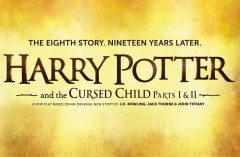 More details have been released about Harry Potter's first appearance on stage, in a two part sequel that picks up where the books and movies left off.
Tantalising, the plot is previewed in the press release with the following statement.
"It was always difficult being Harry Potter and it isn't much easier now that he is an overworked employee of the Ministry of Magic, a husband and father of three school-age children. While Harry grapples with a past that refuses to stay where it belongs, his youngest son Albus must struggle with the weight of a family legacy he never wanted. As past and present fuse ominously, both father and son learn the uncomfortable truth: sometimes, darkness comes from unexpected places"
Even more intriguingly, J. K Rowling, author of the phenomenally successful Potter franchise of books, films (and branded pretty much everything) says "I'm confident that when audiences see Harry Potter and the Cursed Child they will understand why we chose to tell this story in this way."
What can they be up to?
What we do know is that the new play by Jack Thorne, in consultation with Rowling, will be presented over two evenings or on two part days when you can see the first play in the afternoon and the second in the evening.
This is daringly audacious, both artistically, for a show that will rely on the limited attention span of kids and as a business model.
The demand for tickets is likely to be mind-blowing if sales for the books, movies, theme parks etc etc are anything to go by and this way the producers get everybody to buy tickets to two plays rather than one.
Expect Potter Pilgrims to flock to the Palace Theater from all over the world and everyone involved in the production to get very, very rich indeed.