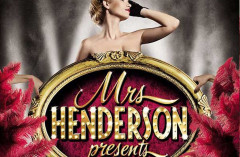 New British musical Mrs Henderson Presents has announced its transfer to the West End following its recent critically acclaimed run at Bath Theatre Royal.
Adapted from the 2005 feature film of the same name, Mrs Henderson Presents will open at the Noel Coward Theatre in the New Year, with Tracie Bennett staring as the eccentric Mrs Henderson, Ian Bartholomew as Vivian Van Damm, and Emma Williams as Maureen.
Directed by Terry Johnson, the man behind West End and Broadway smash-hit La Cage Aux Folles, Mrs Henderson Presents is adapted from Mark Sherman's original screenplay by Terry Johnson and features lyrics by Don Black and music by Simon Chamberlain and George Fenton.
Mrs Henderson Presents is based on the true story of an eccentric old widow named Laura Henderson who purchased the Windmill Theatre in London's Soho and created a nude revue show, much to the dismay of the government censors in 1937. The story follows theatre manager Vivian Van Damm and his quest to keep the nude show running, trying every trick in the book.
Directed by Stephen Frears, the 2005 film was nominated for four British Academy Awards and featured an all-star cast of Will Young (making his acting debut), Judi Dench, Bob Hoskins and Kelly Reilly.
Full casting has yet to be announced, but look out for more news on Mrs Henderson Presents in the coming months as it gears up for its West End opening in February 2016.