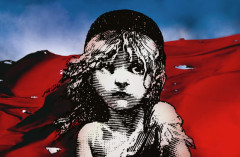 Les Misérables, arguably the best musical of the past 30 years and a juggernaut hit around the world, is going walk-about in the West End, and by the time it settles into its new home long term fans many not recognise it.
It will continue to play at the Queen's Theatre until July 13, 2019, that venue will then close for refurbishments whilst Les Mis transfers to the Gielgud in late July for a four-month season before reopening at the Queen's in December 2019.
A long running show moving theatres is relatively common. What's raising eyebrows is that when it reopens it will be in an entirely different production to the one enjoyed by generations of London Theatre goers.
The original production is to be replaced with the replica of a touring version that has been successfully presented around the world since 2019, staged by a different director with new creative and design team.
Let me first say that I've seen the "new" staging and it's terrific, visually arresting, utilising paintings by Victor Hugo, author of the original novel, as a back drop and telling the story swiftly and powerfully.
But the trouble is the original version still has a place in so many of our hearts.
It contains three iconic elements that stay with you for ever -
The first is the use of a constantly revolving stage that propels characters and settings in and out of focus. It's a staging trick that's almost ubiquitous these days, only last week I saw TINA at the Aldwych theatre that's presented in the same way, THE LION KING set, amongst many others, also copies the idea but when we first saw the Les Mis revolving stage it felt so radical and fresh.
Iconic moment two is when two vast piles of street debris tip over to become barricades which also rotate to reveal a dramatic death.
Thirdly, and it's rather simple thing, the cast, in a triangular formation, give the impression of marching towards us at the end of Act 1, a red flag billowing behind them, whilst actually walking on the spot. If you've never seen it I'm sure this sounds ridiculous but, my god, it's powerful.
None of these moments are in the new production and it's caused such dismay that a petition had been started to persuade the producer, Cameron Macintosh, not to dispense with the original production.
So... what's going on. Why is he meddling with a winning formula?
Well, the answer is probably cost. Les Mis was originally staged at the Royal Shakespeare Company by some directorial titans - Trevor Nunn and John Caird. All three must still be paid substantial royalties whenever and where ever their version is performed. In fact the revenue is said to have kept the RSC afloat for decades. If Macintosh replaces their work with a new production he will no longer have to pay out so much to the original creators and can strike a deal with the cheaper creatives who have restaged the show.
I'm sure we'll get used to it, after all there were similar objections when Macintosh cut significant sections to reduce the running time and save the hourly wage bill each night.
But for me (who's been in love with the show ever since I saw it, with its initial epic running time, at the second ever preview) it feels like this new cost cutting is a real shame.