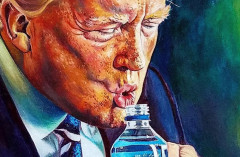 From January the 4th I'll be directing the Union Theatre's third Essential Classics season, this year entitled Enemies of the People.
Each winter it's my chance to programme work in which great writers of the past reflect on issues we face today. Last year we considered the uncertainty of political change in Europe and the US with productions of Shaw's Heartbreak House, Carmen 1808 – a new Catalan inspired version of the Bizet opera, and The Cherry Orchard.
This year Donald Trump's agenda has dominated news cycles and in particular his assertion that criticism is "Fake News" and especially that anyone opposing him is "An Enemy of the People" - giving us our season's theme. It's a nebulous term, with no legal definition, yet the process by which a ruling elite silences opposition by isolating and ostracising dissenters as a threat to the common good has been with us for centuries.
Here's the season and the thinking behind it.
AN ENEMY OF THE PEOPLE, Adapted by Arthur Miller from a play by Henrik Ibsen.
Scene after scene in Ibsen's masterpiece is so screamingly relevant to the corrupt thinking within Trump's White House that it needs no explanation from me. I've directed a lot of Arthur Miller recently and in 2018 I read this version of his for the first time. Written during the same period as The Crucible, and unseen in the UK for nearly 30 years, it not only benefits from his unique psychological precision but it crackles with terror at a former threat to American free speech, the McCarthy show trials of the 1950's. It also, of course, is written with American speech patterns so that the unquestioning, violent hatred we see at Trump rallies and hear in interviews with his supporters feels only a heartbeat away from the dialogue in the play. At this time it seems to demand the contemporary setting we've given it in this production. I also challenged all the cast to regard their characters as small town Republicans, in doing so we've sought to understand and even empathise with this significant political force we dismiss at our peril.
CAN-CAN! A new musical with a score by Offenbach and his contemporaries.
The period known as La Belle Epoque in the final decades of the nineteenth century was a fascinating time when a Paris formerly scandalised by its artistic community began to embrace and celebrate these former social outcasts. For me the art of the period burns bright with a joy in a new cultural and sexual freedom of expression which I wanted us to celebrate in comedy, song and especially dance. My first port of call was to investigate why the librettos of Offenbach's Orpheus in the Underworld (which introduced the Can-Can dance) and Cole Porter's musical, Can-Can, never seem to work for modern theatre audiences no matter how many times they're rewritten. I found myself perplexed by them too but surrounded in my daily life by those with a passion to perform, I decided to take their spirit as inspiration for a new show which draws parallels between the highs and lows of being a struggling performer then and now.
Fuelling it all is the music composed just before, during and just after the "naughty nineties" (the 1890s!) I knew virtually nothing about this repertoire which embraced operetta, the waltz and the sexually risqué, all things which are rather unfashionable today but the research was a joyful journey of discovery and I think it's high time we found a new appreciation for it, particularly of the Operetta repertoire.
I love the soaring melodies and its shameless lack of pretension, it exists entirely to give as wide a spectrum of people as much pleasure as possible, by bolting fantastic, crowd-pleasing tunes on to silly yet satisfying plots.
My favourite celebration of theatre life is Pinero's romantic comedy Trelawny of the 'Wells' in which a London theatre troop go head to head with the patriarch of a well to do family. A revelation from his past means he has more in common with the actors than anyone would guess, allowing for new alliances and romance to blossom. For our Can-Can I have freely adapted this plot replacing the London acting company with real life stars from 1890s, Paris in conflict with the real-life Bontoux banking family, who you'll find parodied in Emile Zola's "Too Big to Fail" novel, Money.
OTHELLO by William Shakespeare.
This masterpiece which charts the malevolent destruction of a racial outsider by a psychologically disturbed rival needs little introduction. Many of you may have seen it before but I also believe a great many of our typical Union audience will be discovering it in performance for the first time.
I really dislike Shakespeare productions in which a directorial concept drowns out the text but of course any revival must present the action within some kind of context.
2019 is the centenary of the Jallianwala Bagh massacre, also known as the Amritsar massacre, when British and Indian troops under the command of Colonel Reginald Dyer fired rifles into a crowd of Indians, who had gathered in Jallianwala Bagh, Amritsar, Punjab. The international outrage arguably sparked the beginning of the end of British Raj rule in India. The compliance and participation of Indian officers in the mass murder at a time when the British Army were actively promoting their rise through the ranks has informed our exploration of the wrenching internal conflict any minority must feel when they adapt to and adopt the ethos of an oppressor.