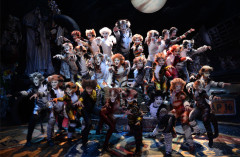 It's not too early to book your tickets for the return of Andrew Lloyd Webber's musical CATS to the London Palladium this October.
It's the kind of show you can see over and over again throughout your life and many people look back on their first visit as one of the best evenings of theatre they saw as a child, inspiring them to go, again and again and to now take their own children.
Many people have a favourite character. Mine's SKIMBLESHANKS – THE RAILWAY CAT. He has the same orange colouring as my current, real life cat, Sid. He's got a great song about how he keeps the railway running efficiently that really captures the magic and momentum of old fashioned railway travel.
Who's you favourite? Perhaps -
GUS – THE THEATRE CAT. One of the oldest cat tribe members. He was once an actor, and is one of two cats who is only seen during his song.
JENNYANYDOTS. She is Gus' mate and very "mumsy". She was named after T. S. Eliot's own cat. She sits all day and rules the mice and cockroaches at night, forcing them to undertake helpful functions and creative projects, to curb their naturally destructive habits.
BUSTOPHER JONES – A fat cat who dresses in a snappy tuxedo and spats. Respected by all, as the upper class "St. James's Street Cat".
GRIZABELLA – The former Glamour Cat who has lost her sparkle and now only wants to be accepted. Grizabella left the cat tribe when she was younger to see the world for herself; she has experienced the harshness of the world and is an outcast in the cats' society.
MR. MISTOFFELEES – A young black tom (with some white) who has magical powers which he doesn't fully control. His signature dance move is "The Conjuring Turn", twenty-four fouettés en tournant.
MUNGOJERRIE – Male half of a pair of notorious cat-burglars, with Rumpleteazer. Mungojerrie and Rumpleteazer are most commonly remembered for their featured dance number where at the end, they do a "double windmill" across the stage.
OLD DEUTERONOMY – The lovable patriarch of the Jellicle Tribe. He is very old and dignified.
MUNKUSTRAP – The show's main narrator. A tabby tomcat who is storyteller and protector of the Jellicle tribe. He is Old Deuteronomy's second-in-command.
THE RUM TUM TUGGER – A flashy tomcat. His temperament ranges from clownish to serious.
Why not make a date to meet them all again when this wonderful show returns to the West End this autumn?