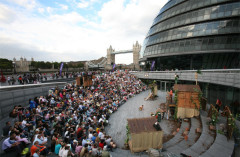 First of all can I give a quick plug for the last few days of THE FREE THEATRE FESTIVAL in the outdoor amphitheatre next to City Hall on the South Bank.
I've directed CAPTAIN SHOW OFF, adapted for families from the Roman comedies of Plautus playing at 6pm, and the epic ancient Greek drama, WOMEN OF TROY which starts at 8pm. Both productions are free to watch and it's an amazing experience to sit in a crown of up to 800 watching these classics under the night sky.
I've been rehearsing and playing the role of Agamemnon in WOMEN OF TROY so my theatre going opportunities have been limited for the last month but it's allowed me to recruit and guide several new critics through the process of reviewing for this site and I hope you've enjoyed the results and are as excited as I am to read their future critiques.
We don't perform on Mondays and Tuesdays so this week I've had a chance to catch up with two very engaging plays on the London Fringe.
The Kings Head in Islington, London's oldest pub theatre, are in the midst of a festival of gay writing, the centre piece of which is a revival of the play F*CKING MEN by Joe DiPietro. (DiPietro also wrote the script of hit musical MEMPHIS currently wowing everyone at the Shaftesbury Theatre) The Kings Head show is his witty, uncompromising look at the sex lives of gay men. The UK premiere, directed by me a few years ago, became Off West Ends longest running play. Let's hope this revival is as successful.
As well as this central production there are a number of other pieces about gay issues including a handful of performances of a new play called THE CLINIC. It's been partly funded by the NHS to dramatise issues around HIV testing and recreational drug use in the gay community and it's produced by the enterprising David Stuart. If the subject matter doesn't sound like a bundle of laughs don't be put off. I saw the first performance and it's a funny, nuanced piece interlinking the experiences of 5 characters.
Luke Davies production is a slow moving, one-pace-through-out affair that is something of an endurance test in the suffocating, hot venue but despite this the audience loved it and it may well have tightened up by now and found a little more shape.
The engaging cast include some well known personalities from the LGBT scene including popular DJ and social commentator Stewart Who and, one of my best friends, the HIV activist and men's sexual-health expert, Matthew Hodson. Both give assured performances in their welcome return to acting and they're well matched by a younger cast, Pretty Miss Cairo, Zacharian Fletcher and Damien Killen who also give subtle, winning performances. Patrick Cash's script is poetic, funny and for the most part avoids being too preachy.
There's just room to praise Danny Solomon and Holly Joyce, the plucky, assured cast of two person play, CONSOLATION at the Bridewell Theatre.
I saw it on Tuesday night when they performed to an audience of just 3 but with such committment that everyone soon forgot the embarrassment of the situation and got caught up in the relationship between a young French re-enactor (Soloman) who plays a Cathar knight in a Visitor's Centre, and a middle-aged Englishwoman (Joyce) who believes she has experienced a past life as a Cathar heretic in thirteenth century Languedoc.
There's lots of poignant moments in Mick Wood's script but it's way too long at nearly three hours and there's nothing he couldn't have said, just effectively, in 90 minutes.