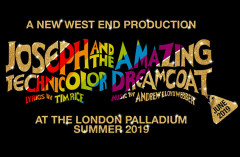 It's been announced that Tim Rice and Andrew Lloyd Webber's first and most loveable musical JOSEPH AND AND THE AMAZING TECHNICOLOUR DREAMCOAT will return to the London Palladium next summer where it enjoyed a long and successful revival in the 1980s.
Few other details have been released yet so while we await news of casting and creatives here's a Lloyd Webber quiz, just for fun.
Which Lloyd Webber lyricist also wrote the words to the James Bond theme Diamonds are for Ever?
What do Jason Donovan and Philip Schofield have in common?
In what show might you find "Another suitcase in Another Hall"?
Name two ALW shows containing references to chimpanzees?
Where is the Phantom of the Opera sequel Love Never Dies set?
Which show originally featured David Essex in the narrator role.
Where can you see Jesús Christ Superstar this summer?
What was the original West End title of the Andrew Lloyd Webber musical about a football team?
In Cats What is the name of the "St James's Street Cat"
Who had a chart hit with a song from Whistle Down the Wind?
Display answers
Don Black
They both starred as Joseph at the Palladium.
Evita
Tell me on a Sunday and Sunset Boulevard but Phantom also has a little monkey on a music box.
Coney Island
Evita
The Barbican
The Beautiful Game
Bustopher Jones
Boyzone.