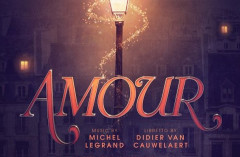 I'm sad to report AMOUR, London's cutest musical, closed early, last weekend.
Its sugary-sweet love story sent everyone home from the Charing Cross Theatre with a smile on their face and a spring in their step.
Set in a story book version of Paris just after WW2, it featured loveable street walkers, chirpy pavement artists and jolly gendarme on bicycles. A talented but celebrity-free cast told the story of an unremarkable clerk who became remarkable for a short while when he unexpectedly developed the ability to walk through walls. The ensuing chaos brought him the attention of the woman he'd admired from afar and together they planned her escape from an abusive husband. The euro-musak score tinkled delightfully through out.
I haven't met anyone who didn't absolutely love it which makes it all the more tragic that it was scheduled to run for an additional six weeks.
When the show's producer, Danielle Tarento, read the overwhelmingly glowing reviews she might have realistically hoped they'd generate enough sales to extend that run further and maybe even warrant the show moving to a bigger theatre.
But it wasn't to be. Poor sales left her no choice but to close her beautiful little show early, pitching the talented cast into unexpected unemployment.
So it's grim news at the venue but also for anyone who cares about theatre.
Although, of course, you and I are one step removed, it also has implications for all our theatre going.
If the public won't buy tickets for quirky, interesting shows like AMOUR then producers won't risk investing in them. The West End will be reduced to easy-sell shows with leading actors cast because of their celebrity rather than their skill.
No one is to blame, times are tough and uncertain, if the public are to invest their time and cash in a theatre trip they'll want to be sure of what and who they'll be seeing.
However here at Londonboxoffice we'll continue to provide much needed coverage of the quirkier productions our city has to offer, alongside the big West End shows.
Check in with us regularly and there may be something that sounds enticing and inspires you to take a chance on titles and actors you may not have heard of.
The next generation of theatre makers and stars, who currently aren't attracting an audience, will be grateful to you.
Danielle Tarento has said: "I want to thank and applaud the brilliant company and creative team who created a beautiful production that received critical acclaim, nightly standing ovations and received eight Off West End Award nominations. I am so incredibly proud of this gorgeous show."
And so she should be.