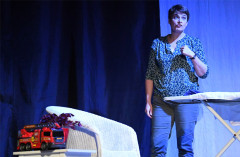 In an unusual move emerging producer Paula Chitty has paired new writing with a short play by the queen of vintage crime, Agatha Christie. I asked her about the rationale behind this. Here's her intriguing response and details of the productions.
Attracting audiences to new work is never easy, but I have a passion and belief in new writing so it struck me that pairing David Hendon's haunting exploration of motherhood, HOME TIME, which I choose to present a couple of years ago as one of the finalists of the Kenneth Branagh Award, could be paired with an Agatha Christie play as a way of enticing an audience.
Agatha Christie's THE RATS is one of her less traditional and unusually abstract undertakings, a clever and ingenious plot which I've chosen to stage in a less traditional manner, presenting it in a pinteresque style.
The pairing of THE RATS & HOME TIME worked extremely well for me in St Albans where audiences were very happy to take the risk and stay on after the Christie when they all seemed to enjoy Peter Hale's play, which they might not otherwise have booked to see.
Christie's world may not be gentle but it is undeniably English. And that sense of Englishness informs our second production, another new play by Hale, A SMALL STEP FOR ENGLAND! Again I've paired it with the Agatha Christie in what I hope will be a second enticing double bill.
This piece takes a look at what remains of the gentle England of folk songs, warm beer and niceness in a London where business is run by global firms recruiting staff from all over the world.
It's a comedy exploring why London – and England – is such a magnet and considers whether work-place political correctness has gone too far. It's based on the playwright's actual experience and he believes it may ruffle a few feathers as it transfers from sleepy St. Alban's to the capital where it's set.
Here's where and when you can see our productions –
Agatha Christie's The Rats / Peter Hale's A Small Step for England! - Kings Head Theatre on 18th May 3pm
Agatha Christie's The Rats / Pete Hale's A Small Step for England! - Chapel Playhouse on 29th June at 7.30 pm
Agatha Christie's The Rats / David Hendon's Home Time - Chapel Playhouse on 30th June at 7.30pm