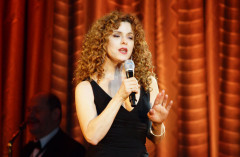 Not only do Londoners have the chance to see Glenn Close recreate her celebrated performance as Norma Desmond in Andrew Lloyd Webber's SUNSET BOULEVARD next summer but it's just been announced that another legendary leading lady will also be crossing the Atlantic.
The triple Tony, double Drama Desk and Golden GlobeAward winning Broadway star Bernadette Peters will play her first UK solo concerts in over 15 years next summer.
We're promised "timeless, signature songs from the multitude of iconic shows in which she has played some of her greatest stage roles, including Gypsy, Into the Woods and Sunday in the Park with George".
To be honest Peters often divides musical theatre fans. Rather like her contemporary, Broadway star Patti Lupine, she has a very mannered, some one would say affected voice, that's rather nasal and never particularly melodic however for the past three decades or so she's ruled New York Theatre as one of it's "must see" divas.
Watch her perform live and you'll see what all the fuss is about. She brings an extraordinarily engaging vulnerability to every role she plays; she's often kooky but never lets you forget there's a real person underneath any silliness in a way that can break your heart.
Reports from her last theatre appearance in a revival of Sondheim's A LITTLE NIGHT MUSIC suggest her voice is sounding a little tired these days but I saw her in FOLLIES by the same composer a year or so earlier and can happily confirm that the way she interprets a character and brings pathos to a role through song is still as magnificent as ever.
Indeed, as her publicist suggests, she's rightly "renowned around the world as one off the foremost interpreters of Sondheim"
She's appeared in more than 30 films and TV movies, including Annie, Pink Cadillac, Pennies from Heaven and Smash and currently stars in the new hit series, Mozart in the Jungle on Amazon Prime.
You can see and hear her in action at The Royal Festival Hall, London on Friday June 3rd 2016.