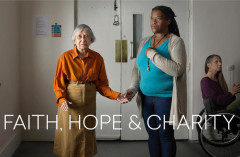 The National Theatre have just announced a raft of new productions for the autumn. No doubt there'll be warmth, humanity and humour in each but I must confess at first glance all of but two of the shows sound rather bleak.
First the lighter fare.
I'm really looking forward to MY BRILLIANT FRIEND a stage adaptation of the much loved novels by Elena Ferrante, I haven't read them but I devoured the recent TV adaptation. Very much a female-centric story, and all the better for it, it concerns a lifelong friendship between two women who first meet as children on the streets of post war Naples and face contrasting futures. Their experiences over the following decade are a celebration of bravery, endurance and friendship through an epic story that reflects the changes in a city, a country and a society. It's so epic it has to be staged over two performances which you can catch on the same day or separate evenings and it's already proved a hit at the Rose Theatre in Kingston.
The NT remind us that the novel's been published in over 50 countries and describe MY BRILLIANT FRIEND as "an epic story of love, violence, ambition and self-destruction"
There are previews from 12th November.
Your only other chance of a fun night out at the National this autumn is THE OCEAN AT THE END OF THE LANE a "modern myth from the brilliant imagination of Neil Gaiman, creator of Good Omens, the epic American Gods, Coraline, Stardust and the Sandman series"
Gaiman really is an extraordinary talent that I've found both exhilarating and frustrating as all maverick geniuses should be. Recently I've loved reading the novel and comic book versions of THE GRAVE YARD BOOK and immersing myself in the dark and gothic world of Amazon Prime Tv's AMERICAN GODS but I've found their adaptation of Good Omens unwatchably twee and silly.
THE OCEAN AT THE END OF THE LANE sounds very promising. Apparently "Returning to his childhood home, Alex finds himself standing beside the duck pond of the old Sussex farmhouse where he used to play. He's transported to his 11th birthday, spring half term. When his dad was struggling to make ends meet and his friend Lettie claimed it wasn't a pond, but an ocean… Plunged into a magical world, Alex and Lettie's survival depends on their ability to reckon with dark, ancient forces that threaten to destroy everything around them"
Adapted by Joel Horwood and directed by Katy Rudd, we're promised "this adventure will excite, unsettle and thrill those brave enough to face its hidden depths".
Now the tougher stuff.
There'll be a new production of Chekhov's THREE SISTERS but don't expect early twentieth century Russian melancholy. We're promised that Chekhov's iconic characters are relocated to Nigeria in 1967 Why? Couldn't someone just write a new play about Nigeria in 1967? Anyway we're promised a "heartbreaking retelling".
The good news is that it's been adapted by Inua Ellams who returns to the National Theatre after his smash hit BARBER SHOP CHRONICLES which several people have told me is one of the best things they've ever seen.
His version unfolds like this: "Owerri, 1967, on the brink of the Biafran Civil War. Lolo, Nne Chukwu and Udo are grieving the loss of their father. Months before, two ruthless military coups plunged the country into chaos. Fuelled by foreign intervention, the conflict encroaches on their provincial village, and the sisters long to return to their former home in Lagos".
There are previews from December 3rd.
Now, this next one promises to be wrist-slashingly bleak. It's the final part of Alexander Zeldin's trilogy of plays about social deprivation in the UK. I didn't see BEYOND CARING and I remember reacting against LOVE, set in a temporary housing facility as misery porn but, my god, it still haunts me now.
FAITH, HOPE AND CHARITY is set in "in a run-down community hall on the edge of town, a woman has been cooking lunch for those in need. A choir is starting up, run by a volunteer who's looking for a new beginning. A mother is seeking help in her fight to keep her young daughter from being taken into care. An older man sits silently in the corner, the first to arrive, the last to leave. Outside the rain is falling".
We're promised "another uncompromising theatrical experience that goes to the heart of our uncertain times".
Previews from 9th September.
I'm excited to see THE ANTIPODES the new play by Pulitzer Prize-winner Annie Baker as I missed her acclaimed plays The Flick and John.
The premise doesn't sound too enticing "Their phones switched off, a group of people sit around a table telling, categorising and theorising stories. This is a world that is both familiar and fantastical. Their real purpose is never quite clear, but they continue on, searching for the monstrous. Part satire, part sacred rite, The Antipodes asks what value stories have for a world in crisis".
But no doubt this will be another masterpiece from Baker who the New York Times have described as 'One of the freshest voices in American theatre.'
Finally we have a twenty minute piece that you can't buy tickets for yet, ALL KINDS OF LIMBO.
"Experience an intimate, immersive performance using cutting-edge virtual reality and holographic technology. Inspired by the influence of West Indian culture on UK music, singer Nubiya Brandon takes us on a new journey through classical, grime, reggae and calypso".
And I really don't know what to think about that! Except it's got to be worth a look.
At least the National Theatre under Artistic Director Rufus Norris is full of surprises.