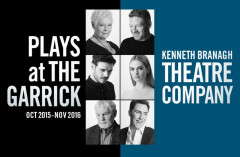 Kenneth Branagh's ambitious season of plays at the Garrick Theatre have already caused quite a stir in theatreland, with its star casting and eclectic mix of plays. Now, further casting has been announced that will see Zoe Wanamaker join the casts of Harlequinade and All On Her Own, and John Dagleish joining the company of both The Winter's Tale and Harlequinade.
On the announcement of the casting news, Kenneth Branagh said, 'Zoë Wanamaker is a brilliant comedienne and a great tragic actress too. In joining us for the Rattigan comedy we seized on the opportunity to let her show us the dramatic side of a playwright also known as 'the English Chekhov'. The rarely seen All On Her Own provides a fabulous woman's role, and makes for an intriguingly balanced double bill. John Dagleish's brilliant musicality was sensational in Sunny Afternoon. I'm very excited to hear what he and our superb composer Patrick Doyle, bring to the music of Shakespeare's great con man, Autolycus, in The Winter's Tale.'
John Dagleish won an Olivier Award this year for his role as Ray Davies in Sunny Afternoon at the Harold Pinter Theatre. He will join the all-star cast of The Winter's Tale and Harlequinade playing in rep from 17 October 2015 to 16 January 2016.
Zoe Wanamaker, herself a double Olivier Award-winner was last seen in the West End in Passion Play at the Duke of York's Theatre. The star of stage and screen will appear in both Harlequinade and the West End premier of Terrence Rattigan's monologue All On Her Own.
The Kenneth Branagh season of Plays at the Garrick also includes Romeo and Juliet, The Entertainer and The Painkiller.