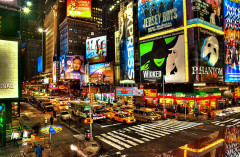 The powerful forces behind New York Theatre have adjusted their prediction of when Broadway might reopen.
The Broadway League have announced shows will remain closed until "at least" 6 September 2020 saying it is currently "too soon to commit to a return date".
Their president Charlotte St Martin, said: "While all Broadway shows would love to resume performances as soon as possible, we need to ensure the health and well-being of everyone who comes to the theatre – behind the curtain and in front of it – before shows can return. The Broadway League's membership is working in cooperation with the theatrical unions, government officials, and health experts to determine the safest ways to restart our industry."
If this doesn't happen soon I fear many producers will consider that reopening doesn't make economic sense.
Another early casualty was announced last week with the unexpected news that Disney don't consider it worth their while reopening FROZEN. This follows the news that major productions of a new Martin McDonagh play called HANGMEN and a revival of the Edward Albee classic WHO'S AFRAID OF VIRGINIA WOOLF would not open following preview periods.
The FROZEN news particularly surprises me as Disney are planning to open it in London when they can, and I'd have thought they'd have wanted it to fly into the West End on the wings of success and not be regarded by the British as a transfer of a Broadway flop.
According to the New York Times FROZEN had the weakest sales of the three Disney musicals that had been running on Broadway — the others were THE LION KING and ALADDIN and "the company made it clear that it does not believe audiences will return in substantial enough numbers to sustain all of those shows".
Thomas Schumacher, the president of Disney Theatrical Productions, allegedly said in a letter to his staff: "This difficult decision was made for several reasons but primarily because we believe that three Disney productions will be one too many titles to run successfully in Broadway's new landscape".
The fact that such a major producer is feeling jittery about Broadway's immediate future demonstrates how tough it's going to be for New York theatre to make a profit for a while.