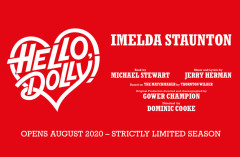 Reader Richard Voyce has been in touch in response to my article last week about HELLO DOLLY starring Imelda Staunton, which we were to enjoy this year at the Savoy Theatre before the Covid 19 virus shut down the West End.
As a result we were initially told to expect it next year when we'll have conquered the pandemic and venues have reopened, but it now seems it'll be a longer wait than that. Richard messages -
"Phil, according to the woman who phoned me earlier in the week to talk about refunding my tickets it'll be at least 2022, rather than next year".
And, as confirmed in the Stage, it looks like it's true.
The production has been postponed until 2022 to allow Staunton to film her role as the queen in THE CROWN and to allow for a potential change of venue.