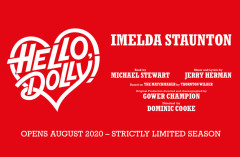 Due to the Covid crisis we may now have to wait until next year to see Imelda Staunton play the title role in this gloriously sunny classic musical, but here are a few things you may or may not know about the original stage show.
You'll recall it concerns the eccentric, widowed matchmaker Dolly Levi who sets her sights on cajoling, Horace, a grouchy half-millionaire, into marrying her during a trip to New York.
Meanwhile she empowers two of his store clerks, Cornelius and Barnaby, to secretly join the expedition and find love themselves with shop girls, Irene and Minnie.
The slight plot comes to a gloriously whirl-wind climax at the famous Harmonia Gardens restaurant where the staff serenade Dolly's entrance down a grand staircase with the ubiquitous title song, and everyone's liaisons are swept up in a swirl of dancing waiters.
Surprisingly, according to Wikipedia, it took 4 attempts to get the slender story exactly right.
Apparently the plot originated in an 1835 English PLAY A DAY WELL SPENT by John Oxenford, which Johann Nestroy adapted into the farce EINEN JUX WILL ER SICH MACHEN (He'll Have Himself a Good Time). Thornton Wilder then adapted Nestroy's play into his 1938 comedy THE MERCHANT OF YONKERS. That play was a flop, so he revised it and retitled it as THE MATCHMAKER in 1955.
The musical draws on all of those sources and Dolly's librettist, Michael Stewart, must have got it right because the show won a record 10 Tony Awards out of 11 nominations in 1964, including Best Book of a Musical for Stewart.
It held the joint record for the most Tony Awards with SOUTH PACIFIC for 37 years, until THE PRODUCERS swept the boards in 2001.
The original Broadway production grossed a staggering $27 million at the box office. This would be an achievement today but in the 1960s it was quite extraordinary.
Another 1964 Tony winner was Carol Channing for her leading performance as Dolly. In an interesting quirk of musical theatre history she beat Barbra Streisand, nominated for her starring role in FUNNY GIRL. However Streisand had the last laugh in 1969 when she and not Channing starred in the film.
Dolly briefly became the longest running show on Broadway eclipsing the previous record holder MY FAIR LADY, until FIDDLER ON THE ROOF equalled it and the two smash hits held the crown for ten years until the original production of GREASE broke the record.
Broadway Dollies during that epic run included Ethel Merman who had turned down the role when the show opened, Ginger Rogers, Martha Raye, Betty Grable and Phyllis Diller.
Pearl Bailey also starred, in an all-black Broadway version in 1967 and, if you can get hold of a copy, check out that cast recording. It's glorious.
Director Gower Champion's original Broadway Production of HELLO DOLLY! transferred to the West End at the Theatre Royal, Drury Lane on December 2, 1965. This revival starred Mary Martin of SOUTH PACIFIC fame who ironically had also turned down the chance to originate the role in New York. It ran for 794 performances.
If you're a HELLO DOLLY novice, here's what all the fuss is about in a YouTube clip from the 1969 film starring Barbra Streisand, as directed and choreographed by Gene Kelly.
The history of this film is far darker than that of the first Broadway production. We'll return to that when the next West End HELLO DOLLY! Star, Imelda Staunton, takes on the challenge in 2021.