409-412 Strand, London, WC2R 0NS GB
Quick Facts
Largest Ticket Inventory
in the West End
Real time
seat availability
Choose
your seats
Your booking is processed directly into the box office reservation system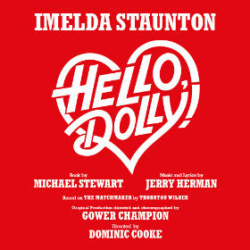 Hello, Dolly!
Tickets
Booking until: Monday, 6 September 2021
Starring: Imelda Staunton, Jenna Russell, Andy Nyman
Tickets from £23.75
Coming soon
About Hello, Dolly!
Performance Times
Booking until: Monday, 6 September 2021
Starring:
Imelda Staunton, Jenna Russell, Andy Nyman
Hello, Dolly! description
Hello Dolly – With the brilliant Imelda Staunton
Everyone loves Hello, Dolly! Now it's back in London, one of the most exciting announcements we've heard for ages. We all know and respect the supremely talented four-time Olivier Award winner Imelda Staunton. She plays Dolly. We also love the Olivier winner and Tony nominee Jenna Russell, who co -stars as Irene Molloy in this latest production of the 1964 classic show. It's a Dominic Cooke production of Hello, Dolly! and it's on at the Adelphi theatre in late summer 2020. As you can imagine, everyone's waiting with bated breath for the tickets to be released, us included!
The brilliant choreographer Bill Deamer, the talented scenic and costume designer Rae Smith, and the respected music supervisor Nicholas Skilbeck are all on board, and the signs are looking excellent for a show to remember. The production comes from Michael Harrison Entertainment and David Ian Productions, and the fun kicks off once the dazzling Waitress finishes its current run at the Adelphi.
The lyrics and music come from Jerry Herman. The story is based on the original farce by the US writer Thornton Wilder. Written in 1938 and called The Merchant of Yonkers, it was revised by Wilder and renamed The Matchmaker during 1955. It debuted in Detroit during 1963 and soon transferred to Broadway. In 1964 it won an astonishing ten Tony Awards, including Best Musical. It was a record breaker as far as ticket sales go and the record lasted for 37 years.
Imelda Staunton has entertained us in all sorts of ways, most notably as the Olivier-winning Best Actress in a Musical for her role as the Baker's Wife in Into the Woods. She scored high as the awful murderer Mrs. Lovett in Sweeney Todd, an awe-inspiringly grisly role, and delighted us with her portrayal of Madame Rose in Gypsy. But that's just the tip of a remarkable iceberg including numerous TV hits.
What's the plot? The musical follows the life of Dolly Gallagher Levi, a professional matchmaker with a strong will. She's travelling to Yonkers, a district of New York, to track down a love match for a mean and miserly rich man, a so-called 'well-known unmarried half-a-millionaire' called Horace Vandergelder.
The album of the show was given a place in America's Grammy Hall of Fame in 2002 and the show lives on as one of the world's most enduring and best-loved musical theatre hits, enjoying four Broadway revivals over the years and on stage in countless countries around the world. The 1969 movie also won three Academy Awards as well as being nominated for awards in four more categories.
Now Hello, Dolly! is back in the capital and we're anticipating a dramatic run on tickets once they're released. If you're new to the show and want to see what, exactly, it is that makes this story so very special, so unforgettable, so more-ish, we'll see you there.
Who is this show for? Hello Dolly is good, clean fun and plenty of experts have no problem recommending it for people aged eight or more.
13

Jun
2020

Fun Facts About the Stage Version of Classic Musical HELLO DOLLY! Ahead of its Latest West End Run
by Phil Willmott | Saturday, June 13 2020, 12:48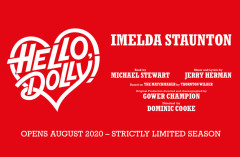 Due to the Covid crisis we may now have to wait until next year to see Imelda Staunton play the title role in this gloriously sunny classic musical, but here are a few things you may or may not know about the original stage show.
Fun Facts About the Stage Version of Classic Musical HELLO DOLLY! Ahead of its Latest West End Run
25

Nov
2019

The Mystery of the West End's HELLO DOLLY shuffle
by Phil Willmott | Monday, November 25 2019, 09:05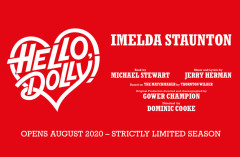 It's been announced that UK acting royalty Imelda Staunton will play the title role of Dolly Levi in a NEW production of HELLO DOLLY for the West End.
The Mystery of the West End's HELLO DOLLY shuffle