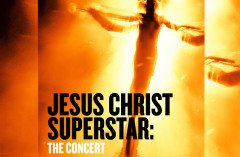 Full casting has been revealed for the upcoming concert production of JESUS CHRIST SUPERSTAR at Regent's Park Open Air Theatre, which will be trimmed to a 90-minute running time and involve socially distanced audiences and cast members.
We're told that with 9 performances a week, the roles of Jesus, Judas and Mary need to be double-cast, presumably because the show is so tough on the performer's voices that they can't sing a full week of shows. I must say I struggle to see why the role of Mary is that demanding, but anyway two performers will alternate each principal role.
So you might see Declan Bennett or Pepe Nufrio as Jesus, Ricardo Afonso or Tyrone Huntley as Judas and Maimuna Memon or Anoushka Lucas as Mary.
They'll join David Thaxton (Pilate), Shaq Taylor (Herod), Ivan De Freitas (Caiaphas), Nathan Amzi (Annas), Phil King (Peter), Cedric Neal (Simon), and Genesis Lynea, Rosa O'Reilly, Elliotte Williams-N'Dure as the Soul Singers.
I must confess I've never heard of any of the people alternating the "big three" but if you have and you've a preference to see (or indeed avoid) any of them - tough!
According to the theatre website -
"A performance schedule will not be confirmed in advance, allowing maximum flexibility"
but putting a positive spin on it then add that this will give -
"...audiences the opportunity to see any combination of actors as they alternate performances."
I wish I shared their optimism that people can afford to see the show more than once, at £65 per ticket, in order to compare and contrast the different three-sums. The lock-down has meant so many theatregoers are short of money.
And ideally you should find 1 to 4 wealthy friends to join you. If you like to go to the theatre on your own you'd better book soon because they're only selling 14 single seats per performance, as the Regent's Park Open Air Theatre's website goes on to explain -
The number of single seats is limited to 812 across the run, as we have had to group seats to maximise capacity. Here is a list of the single seats that are available, to help you locate them quickly.

Band A - J14 | J15 | J41 | J42 | J52 | J55 | K38 | L9 | L56 | O53 | O63
Band B - R85
Band C - Grass Bank Gangway 1, #4 | Grass Bank Gangway 1, #5