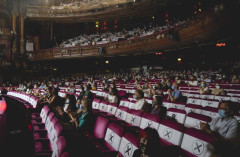 Andrew Lloyd Webber has been working tirelessly to demonstrate how the West End could open again whilst complying with government guidelines.
Or has he?
He's undoubtedly been tireless, and last week invited 640 people to watch a show under social distancing conditions at The London Palladium. This is the maximum amount of people that can currently be accommodated in the 2,297 seat venue when producers comply with the current regulations. For one afternoon the landmark London theatre utilised the techniques Korean venues are using to protect their visitors including "fogging" the air with a chemical that "is effective against the virus for four weeks" and an air purifying system which, it was claimed, made the atmosphere healthier than out on Oxford Street.
But based on Lloyd Webber's speech, rather than attempting to show how all this can work, it seems his objective was to show that it can't.
Looking out at the auditorium he recalled seeing his first live theatre aged 7, remembering it as -
"one of those experiences you cannot ever eradicate. One of the things that turned me on to theatres, and I was lucky enough that soon after that I fell in love with musicals and saw My Fair Lady and West Side Story. They were live, it was theatre and it absolutely grabbed me. Theatre is my life and the one thing that I really feel I can do is give something back to the profession that has been so good to me".
However he had little optimism about what was about to unfold.
"This is a rather sad sight. I am so grateful to you all for coming and being our guinea pigs like this. But the Palladium is meant to be full. It's a theatre that wants to love you. I think this [event] will amply proof of why social distancing in theatre doesn't work".
Introducing Beverley Knight, who was to blast out her celebrated one woman show to the test audience, he thanked her for her bravery, and revealed that he considered a socially distanced audience to be "a misery for the performers". And, he pointed out, it would be even more miserable for actors in a comedy. With spectators scattered so far apart he doubted much laughter would spread between them.
He had praise though for the culture secretary Oliver Dowden who he claimed "is really trying to do his best for all of us". However he didn't hold back as he politely made it clear what theatre makers need to hear next.
"We would love to know what that [emergency funding] package means at some point. That would be quite helpful".
Finally his concluding remarks weren't simply "preaching to the choir" of show biz folk he had gathered in the Palladium. His words sent a clear message to anyone in power who considers social distancing represent a realistic opportunity for theatres to reopen in the next few weeks.
Preparing a show, he reminded us, "could take nine months".
"You have to make decisions about whether to build scenery and you have to get shops open to do all of that. It's not something that can be done just like that. So, we badly need a date when we can reopen, a date that at least we can be given as a target".
And by reopening he meant without the social distancing measures on display at the Palladium.
"A musical needs to take 70% capacity to break even, let alone repay all its investment, and a play a little less. But we need our theatres to be full again".