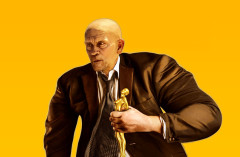 Hollywood A list star John Malkovich's returning to the London stage after 30 years would be big news enough but it also sounds like he'll be playing disgraced movie mogul Harvey Weinstein!
Here's what we know already. The play is to be written and directed by one of the giants of the American Theatre (and author of a good few hit films too) David Mamet.
For the past 50 years audiences and critics have admired the gritty, spare and razer sharp dialogue with which he's explored everything from contemporary work place machismo to the Victorian parlour.
Malkovich is not only known for a prestigious career as a film actor, including starring roles in Dangerous Liaisons, Being John Malkovich, Con Air and Mulholland Drive, but he's also done some great TV of late. He was a superlative Hercule Poirot at Christmas and is a creepy prescience in the Netflix hit Birdbox.
But are we to associate the project with another currently high-profile figure, the disgraced film producer Harvey Weinstein, who is currently denying numerous accusations of sexual abuse?
Of course Mr W has very powerful litigious lawyers so Mamet and Co can't openly say that the play's lead character is based on the mogul. But let's examine the evidence we can glean from the press release. It opens with news that -
"Bitter Wheat is a play about a depraved Hollywood mogul"
That could be Harvey.
"Our hero, Barney Fein, is a bloated monster- a studio head, who, like his predecessor, the minotaur, devours the young he has lured to his cave"
Harvey?
"His fall from power to shame is a mythic journey which has been compared to The Odyssey by people who claim to have read that book"
That definitely sounds like Harvey... and, it's true, which of us has actually read the Odyssey?
Maybe we need to do so to get the most from this exceptional theatre event. Which is also described as
"Directed by David Mamet in a good mood. Funnier than The Iceman Cometh, more chaos than Richard III, and without all the stupid, so-called 'poetry'.
They round off the witty press release with -
"Money, sex, power, you only need one of them to see Bitter Wheat - at the Garrick"