Quick Facts
Largest Ticket Inventory
in the West End
Real time
seat availability
Choose
your seats
Your booking is processed directly into the box office reservation system
This show is now closed.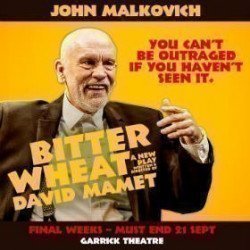 Bitter Wheat
Tickets
4.4/5
-

based on

43

reviews
Information
Cheap Tickets
Reviews
News
About Bitter Wheat
Performance Times
Starring:
John Malkovich
Bitter Wheat description
Bitter Wheat – A David Mamet play with a dark heart
The respected US playwright David Alan Mamet is a talented film director, screenwriter and author. John Malkovich is one of the USA's finest actors, a man who hasn't graced the West End stage for far too long, for a third of a century. He's due to star in Mamet's latest masterpiece, Bitter Wheat, a piece that is also directed by the playwright. What more can you ask for as a fan of seriously good theatre?
John Malkovich is probably best loved for his work in films like Places in the Heart, In the Line of Fire, Con Air, Johnny English and the dazzlingly brilliant Being John Malkovich. During 2016 he was director of Good Canary at the Rose Theatre Kingston, a project that won him the Evening Standard's coveted award for Best Director.
David Mamet is a Pulitzer Prize-winning playwright with an impressive list of successes behind him, including the magical Glengarry Glen Ross, Speed-the-Plow, American Buffalo, Race, The Penitent, and his play Oleanna, which explored the life of a university lecturer accused of sexual misconduct with a pupil, beautifully directed by Harold Pinter himself.
The plot? Hollywood really is a a hell hole, a hateful place where everything except the awards are for sale. This is home to one spectacularly depraved Hollywood mogul, whose story reveals the festering wound of show business for what it is. The play, however, is designed to leave the audience feeling more resilient, better able to accept and live with the horror of life.
Our anti-hero is Barney Fein, a fat monster of a studio head and a sexual predator who practically devours the young actors he lures into his dodgy circle. If the plot smacks of Harvey Weinstein, that's no accident. The playwright hinted in 2017 that he was writing about the Weinstein scandal. The not-so-great man's fall from power and grace is almost mythical in its sheer drama, and some critics have compared this play to Homer's The Odyssey.
It sounds deadly serious. But this play is actually funnier than the hilarious The Iceman Cometh, dripping with money, sex, and power. Mamet's treatment of one of Hollywood's biggest scandals is, as usual, unique and thought provoking. Weinstein's disgusting behaviour sparked the #MeToo movement, and Bitter Wheat carries on the momentum. It's on at the Garrick Theatre from 7th June to 14th September 2019, so block out time in your diary... and prepare to be scandalised!
Who is this show for?
Given the subject matter, this play is not recommended for children under 16.
Bitter Wheat cheap tickets
We have a great selection of cheap Bitter Wheat tickets. We can help you save up to 70% on Bitter Wheat tickets! If you're looking for discount theatre tickets have a look below for our latest offers for Bitter Wheat at the Garrick Theatre.
-53%
Was £37.50
Now £17.50
Valid Mon-Fri & Sat Matinee until 21 Sep 2019.
-42%
Was £47.50
Now £27.50
Valid Mon-Fri & Sat Matinee until 21 Sep 2019.
-39%
Was £57.50
Now £35.00
Valid Mon-Fri & Sat Matinee until 21 Sep 2019.
-41%
Was £67.50
Now £39.50
Valid Mon-Fri & Sat Matinee until 21 Sep 2019.
Bitter Wheat reviews
4.4 out of 5
based on

43

reviews
What to expect:
Acting
Music
Costumes
Story
Lighting
Recommended for:
Anyone (35%)
Families (37%)
Teenagers (40%)
Couples (67%)
Theatregoers (84%)
Latest customer reviews

Very current
A story of a power crazy man who thinks he is untouchable , the pace of the play is fast and grabs your attention from the start. Well acted and has some light funny moments
Reviewed on 21 September 2019 by William, Bromsgrove, United Kingdom

Excellent
The best script and play I've enjoyed in a very very long time. The acting is just superb from start to finish and obviously John Malkovich delivers from the first moment. His presence alone is extraordinary and he's clearly one of THE actors of our generation - not that it needs confirming, but the rest of the cast are wonderful too. It's a truly great play and a top night.
Reviewed on 21 September 2019 by Constantine, London, United Kingdom

Mesmerising Story and Master John
Mesmerising Story and Master John
Reviewed on 20 September 2019 by Gokturk, London, United Kingdom

Very current
Reviewed on 20 September 2019 by Argyro, London, United Kingdom

Love the theatre's intimate atmosphere- JM's charismatic
If it wasn't for the star of the show I would not have watched a play of this story- but really wanted to see John Malkovich on stage, and I am very happy I did! I loved the no frills set and was impressed how quickly it was changed between scenes. Previously (in a different theatre) I've struggled to see the stage from a second level budget seat, so this time I've opted for stalls and was very pleasantly surprised how intimate the space was, I had a clear view of the stage despite a tall man sitting in front of me as the auditorium is slightly sloped. The downstairs ladies room was deserted- nice change from normally spending the entire interval queuing! The cast was well chosen and JM made it a very special performance for me. My favourite nuance was that he made a special reoccurring movement (seating) that brought humor into the storyline that would otherwise have no space for any. If I had the chance I would go again..
Reviewed on 19 September 2019 by Timea, Maidenhead, United Kingdom

Relevant
Relevant topic. Great acting team headed by magnificent John Malkovich
Reviewed on 17 September 2019 by Mirjana, London, United Kingdom

Could've done more
The plot itself alluded to more than the actual storyline did leaving the audience wanting more. The acting was rather rushed in parts so the dramatic feel was lost as the lines were not allowed to permeate the outer membrane of the audience- jokes were made, but the next line was thrust upon too soon before we could laugh it off and therefore we missed the response. Serious topic taken too lightly, if that's even a thing. All a little insipid.
Reviewed on 16 September 2019 by Rachael, Brentwood, United Kingdom

Amazing
Brilliant acting, great subject.
Reviewed on 14 September 2019 by Audrey, Thurles, Ireland

Malkovich is a winner
Reviewed on 09 September 2019 by Fiona, Den Haag, Netherlands

Funny and outrageous. Excellent contemporary story with unrivalled acting.
Reviewed on 07 September 2019 by Ella, London, United Kingdom

Excellent
A must see for Malkovich fans...so Weinsteinesque and abhorrent and charming, a twisted combination. Charlotte Moore is great...love the Garrick
Reviewed on 05 September 2019 by Imogen, London, United Kingdom

Timely examination of #metoo
Malkovich is amazing in all but the first scene, and I'm having trouble blaming him because his scene partner is awful. Honestly I and my two friends were worried after that first scene. Speech and linescand delivery were stilted and WEIRD. Thank goodness it improved 90% after that. That first scene was not good. Otherwise GREAT examination and Malkovich is a star for a reason. The actress playing the Korean hopeful was GREAT. Ending was perfect. Lovely theatre, thank you!
Reviewed on 03 September 2019 by Kyla, Port Moody, Canada

Better than dreamed
Being a John Malkovich fan and David Mamot fan meant I was bound to enjoy this production but it exceeded expectations. The entire cast was captivating and the focus of the script was on the characters personalities. There is no judgement of the topic made just an insight into the minds of those involved. Brilliant stuff. I cant imagine anyone but Malkovich pulling it off. BRAVO!
Reviewed on 03 September 2019 by Rachelle, Hunters Hill, Australia

Bitter Weinstein...
Excellent play. Gritty, humourous and appalling all at once. The acting is superb. A must see.
Reviewed on 03 September 2019 by Mark, Chatham, United Kingdom

Punchy, funny and a little bit shocking
Malcovich is excellent. Like most plays takes a while to get going but once it does it packs a bit of a punch. Awkward to watch at limes, laugh out loud at others. Worth seeing.
Reviewed on 28 August 2019 by Ann, Ashtead, United Kingdom

Powerfully performed
A wonderful and at times dark funny script brilliantly performed
Reviewed on 28 August 2019 by Nina, Bentleigh East, Australia

Amazing show
Reviewed on 18 August 2019 by Fani, Birmingham, United Kingdom

Really excellent
John Malkovich was amazing, as anticipated! But the supporting actors/actresses were also fantastic. I would thoroughly recommend seeing this show while it's on...
Reviewed on 15 August 2019 by Claire, Reading, United Kingdom

Entertaining but very flat and monodimensional
Whilst the whole is reasonably well acted (apart maybe from John Malkovich himself who sounds rather flat, surprisingly), the whole play is very basic. There is a missed opportunity to explore the complexity of the Weinstein situation and part of the plot is far fetched (like the victim come by back to see her abuser in the middle of legal action and giving him a gift). It just lacks a lot of depth
Reviewed on 30 July 2019 by Olivier, London, United Kingdom

Bitter Wheat review
Outstanding show. John Malkovitch was brilliant as the Weinstenien character. Very funny in places and dark in others touching a nerve on occasion with casting couch antics. He was well supported by the rest of the caste and I would thoroughly recommend the show to everyone over the age of 16.
Reviewed on 28 July 2019 by Robert, Bishop's Stortford, United Kingdom

A funny look of a disgrace caracter
Reviewed on 24 July 2019 by Georgios, London, United Kingdom

Another Mamet Masterpiece
I love David Mamet's work and for any Mamet fans this is a real treat. John Malkovich is brilliant giving a tour de force performance. The only slight disappointment is the ending which is a little weak compared with the excellence and the power of the rest of the play. Riveting stuff. Highly recommended for discerning adults.
Reviewed on 20 July 2019 by Howard, Wolverhampton, United Kingdom

Malkovich gives a tour de force
Reviewed on 18 July 2019 by Rogall, Frechen-königsdorf, Germany

Depiction of a funny monster
I could go on and on,but bottom line is: exceptionally well-written play staged to perfection.
Reviewed on 13 July 2019 by Javier, London, United Kingdom

Superb
It was so good to see John Malkovich back on the London stage. I cannot think of another actor who could have played the role. His PA played by Doon Mackichan was brilliant- a definite takeaway in attitude. It's a great new play partly based on the old premise of have sex with me and I'll make you famous...and the choice one makes...and where naivety is politely ignored for the consequence of one's choice. An old story told in a most marvelous way today. Every moment was superb and bravo to each and every actor who performed.
Reviewed on 07 July 2019 by Catherine, Walton On Thames, United Kingdom

David Mamet, brilliant!
What a treat! Brilliantly written, masterfully acted. And Malkovich in the lead! What more could one ask for? Darkly funny, scary, creepy. Without outrightly saying Barney Fein is Harvey Weinstein, Mamet nails the character. But wait, it is an 'amalgam' of all Hollywood Producers. All things "Hollywood'.... And how lucky is London to get the first look at this. - Refreshing.
Reviewed on 07 July 2019 by Alexandra, Los Angeles, United States Of America

Disappointed
Reviewed on 06 July 2019 by Stuart, Woodside, United States Of America

Hugely disappointing play
This is one of the worst plays I can remember seeing. The first Act was OK and began to develop the characters and the themes. John Malkovich was good and believably repulsive in the role. However, in the second Act, the plot became ridiculous and the characters did not develop. It was as if David Mamet got bored and asked a schoolchild to think of an plot and an ending. Don't waste your money on this one.
Reviewed on 30 June 2019 by Richard, Stanmore, United Kingdom

Disappointing night in Garrick Theatre
Badly written story, boring, poor acting, would expect more from Mamet and Malkovich.
Reviewed on 24 June 2019 by Jacek, Gdansk, Poland

Bit disappointing
Reviewed on 13 June 2019 by Katie, Bethnal Green, United Kingdom

Intense
Malkovich is terrific - turning from a wise-cracking guy slowly but steadily into a monster. Ingenious. Supporting cast was perfect particularly Sondra.
Reviewed on 11 June 2019 by Caroline, Tonbridge, United Kingdom

Classic Mamet, Classic Malkovich!
Having only had the pleasure of seeing David Mamet's and John Malkovich's creations on screen up until this point, it was such a thrill when I saw they were going to put on a show in the West End. My fingers leapt to book tickets immediately in hot anticipation of what would surely be an unforgettable theatre spectacle; I was not disappointed. Like many, I love watching a show or film without know anything about it, other than perhaps the title and primary contributors. Malkovich's portrayal of a shamed magnate is quite tremendous - at once despicable and hilarious, with razor sharp, daring dialogue that caused no shortage of shocked gasps or nervous "oohs" in the audience, while trying to control their laughter. The plot moves along quite swiftly, each scene portraying another facet of the antihero's dislikable personality. What drives it along are his bizarre and bewildering choices, that you'd think no sane person would make, constantly revising his game plan to make the best of a potential opportunity in any given situation. It's hard to describe without giving away some parts of the plot, or indeed mentioning who Malkovich's character is portraying; suffice it to say that it's a brilliant combo of classic witty Mamet humour and classic authoritative Malkovich delivery, and you'll have to find out when you go and see it for yourself! To be there on opening night and to be fortunate enough to meet and shake hands with Mr. Mamet himself felt so special: Witnessing the care he took to make his audience feel welcome, and then to stand and follow the show from the back of the auditorium, undoubtedly gauging performances and audience reactions, and compiling mental notes for the rest of the show's run, simply fills one with admiration. Best of luck with the rest of the show, and for all those lucky enough to go and see it - enjoy!
Reviewed on 08 June 2019 by Cameron, Barnes, United Kingdom

A must see!
Reviewed on 07 June 2019 by Marialena, London, United Kingdom

Best Bitter Taste!
Reviewed on 07 June 2019 by Ece, Canterbury, United Kingdom

Hashtag Too Soin?
Remarkable script, remarkable performance by Mr Malkovich (best performance ever!). I'm just not sure whether i'm ready for #metoo to be quite so funny.
Reviewed on 07 June 2019 by Davida, Dhahran, Saudi Arabia

Must see (if you like cynical humour)
Reviewed on 07 June 2019 by Olena, London, United Kingdom
29

Jan
2019

Is John Malkovich about to play Harvey Weinstein in the West End?
by Phil Willmott | Tuesday, January 29 2019, 14:37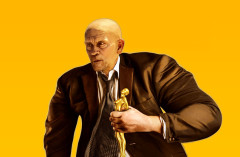 Hollywood A list star John Malkovich's returning to the London stage after 30 years would be big news enough but it also sounds like he'll be playing disgraced movie mogul Harvey Weinstein!
Is John Malkovich about to play Harvey Weinstein in the West End?