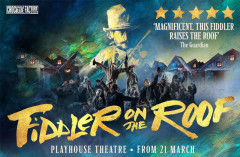 Great news! It's been announced that Chocolate Factory Productions, Sonia Friedman Productions and Michael Harrison will transfer The Menier Chocolate Factory's production of FIDDLER ON THE ROOF, as directed by Trevor Nunn, to the Playhouse Theatre from 21 March for a limited run until 15 June.
I was away for the opening night and have been trying to get a ticket every since with no luck, it's currently running at the Menier, where it completes its sell-out run on 9 March.
We're told "The Playhouse Theatre will be specially transformed into an immersive space", which sounds very exciting and means that those of us who are late to the party won't miss out on the unique up-close experience you get at the relatively small originating venue.
The show is classic Broadway and tells the story of how a humble Jewish milkman in Russia must adapt to the radical changes the younger generation bring to his family and village traditions, and the persecution of Jews in his homeland.
It's chock full of timeless classic musical theatre songs inspired by traditional Yiddish folk music including 'Tradition', 'Matchmaker, Matchmaker', 'Sunrise, Sunset' and 'If I Were a Rich Man', and as a bonus the production recreates Jerome Robbins' original Tony award-winning choreography, which has never been bettered.
See you there!