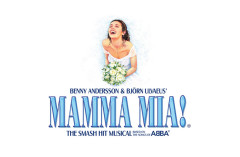 On 6th April 2022 Mamma Mia! celebrates its 23rd birthday. The fun originally opened at the Prince Edward Theatre in April 1999. It transferred to the Prince of Wales Theatre in 2004, and onwards to its current home at the Novello Theatre in 2012. The show broke Box Office records at all three venues. The London production has been experienced by over 9 million people so far. Worldwide, the total audience soars to 65 million. This article marks its 9000th performance.
Who's involved in Mamma Mia!?
So far the show has had fifty different productions and been produced in 16 languages. It has grossed an awe-inspiring four billion pounds at the box office. 2011 saw it become the first Western musical staged in the Mandarin language, in China. The plot is wonderful. The staging is superb. The choreography rocks. But it's Abba's magical pop music that tops everything off. The London cast stars:
Mazz Murray as Donna - Natalie Langston plays Donna at some performances
Josie Benson as Tanya
Gemma Goggin as Rosie
Richard Trinder as Sam
Neil Moors as Harry
Stephen Beckett as Bill
Emma Mullen as Sophie
Jack Danson as Sky
Tegan Bannister as Ali
Sophie Matthew as Lisa
Michael Nelson as Eddie
Alexandros Beshonges as Pepper
The rest of the cast comprises Natasha Agnew, Chloe Ames, Gemma Atkins, Chloe-Jo Byrnes, Nicole Carlisle, Angus Good, Natalie Jayne Hall, Lauren Hampton, James Humpleman, Morgan Jackson, Frankie Jones, Grace Moorhouse, Jodie Nolan, Dan O'Brien, George Olney, Michael Storrs, Kyle Turner, Amy Thiroff, Michael Tyler, Simon Willmont, and Alex Woodward
Buy Mamma Mia! Tickets
Book your Mamma Mia! tickets online with us and choose the best seats with our Novello Theatre seating plan. We'll send E-tickets direct to your email address for you to show at the theatre door.
About the Novello Theatre
Dating back to 1905, to the Art Nouveau period, the Novello Theatre is home to the famously funny black comedy murder mystery, Arsenic And Old Lace. It ran for an extraordinary 1337 performances during the 1940s. Past shows at the Novello Theatre include Footloose, The Drowsy Chaperone, and the short-lived 2007 musical version of the Madonna movie, Desperately Seeking Susan.