Northumberland Avenue, London, WC2N 5DE GB
Quick Facts
Largest Ticket Inventory
in the West End
Real time
seat availability
Choose
your seats
Your booking is processed directly into the box office reservation system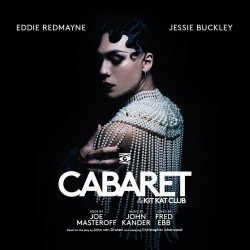 Cabaret
Tickets
4.3/5
-

based on

10

reviews
Booking until: Saturday, 1 October 2022
Starring: Eddie Redmayne, Jessie Buckley
Tickets from £50.00
Book tickets
About Cabaret
Age restrictions
Suitable for ages 13+

Important Information
This production contains adult themes and some nudity
Performance Times
Booking until: Saturday, 1 October 2022
Starring:
Eddie Redmayne, Jessie Buckley
Cabaret description
Let your heart dance to the classic tunes of Cabaret!
Top Director Rufus Norris first brought Kander and Ebb's classic musical Cabaret in 2006 and it made massive waves! Launched to a huge amount of critical acclaim, it subsequently won two coveted Olivier awards. Now Norris has re-created his smash hit West End show to bring an extra edge to the already breath-taking tale of the club performer Sally Bowles and the people who lived and loved at the Kit Kat Club in 1930s Berlin. Expect sophisticated choreography, fabulous costumes, a beautiful set, a tense storyline and some of the best-loved tunes ever written for musical theatre.
Cabaret – The story
It's 1931. The scene? Berlin. The Nazi Party is beginning to make a subtle but unpleasant impact on the country. The grotty Kit Kat Klub's regular patrons include a young American writer called Cliff Bradshaw, who falls deeply in love with nineteen year old Sally, an English girl who performs in the club. Under the darkening and increasingly threatening political clouds, their love grows and an exciting drama unfolds as the strange and mysterious club Emcee, who is symbolic of the terrible oppression and evil excesses to come, looks on.
Watch history in the making unfold…
Cabaret presents a genuine emotional journey. The political threat is real – it happened. The sub-plot was acted out by real people again and again during those terrible times as relationships were wrecked, families destroyed and trust smashed. And because we, the audience, know that the Second World War was on its way, the story is even more poignant. This musical masterpiece will whisk you away to a time when the winds of war were beginning to blow. At the same time the score is thrilling, a series of tunes you'll recognise without realising you knew them. The set is wonderful, taking you back to the 1930s in seconds. And the costumes are to die for!
The Cabaret song lists includes sing-along classics like Willkommen, So What?, Telephone Song and Don't Tell Mama. You'll find yourself swaying in your seats, lost in Mein Herr, Telephone Dance and Perfectly Marvellous, Two Ladies, It Couldn't Please Me More and Tomorrow Belongs to Me. There's Kickline, Married, If You Could See Her (The Gorilla Song), What Would You Do?, I Don't Care Much plus a host more beautiful songs and, of course, the all-time classic Cabaret itself.
Cabaret theatre tickets to suit every budget
We provide excellent seat and ticket availability with a great choice of seat options, premium and full price tickets as well as discount Cabaret tickets - the entire range of ticket prices to meet every budget.
Next Performances for Cabaret at the Kit Kat Club at the Playhouse
Wednesday
15th Dec 2021
2:00pm
Wednesday
15th Dec 2021
7:30pm
Thursday
16th Dec 2021
7:30pm
Friday
17th Dec 2021
7:30pm
Saturday
18th Dec 2021
2:00pm
Saturday
18th Dec 2021
7:30pm
Cabaret reviews
4.3 out of 5
based on

10

reviews
What to expect:
Acting
Music
Costumes
Story
Lighting
Recommended for:
Anyone (40%)
Families (40%)
Teenagers (50%)
Couples (70%)
Theatregoers (90%)
Latest customer reviews

Birthday Treat
A fantastic production - the cast were all superb, especially Will Young & Lyn Paul. Thoroughly enjoyed the show and would love to see it again.
Reviewed on 31 August 2013 by Anonymous

Where was Will?
Disappointed that will young was ill but his understudy was a star. some of the others not so good--why cast people like Sian phillips whoi absolutely can't sing? Michelle ryan did well but this role always pales by comparison with Liza. Thought the end was melodramatic and unnecessary (the holocaust has been graphically displayed so many times and in an otherwise lighthearted production it was out of place), but otherwise an enjoyable show.
Reviewed on 04 January 2013 by Anonymous

fantastic show
Reviewed on 03 January 2013 by Anonymous

Brilliant!
I loved this show. Will Young did a brilliant job as Emcee: fantastic voice, funny and a bit creepy when called for. The whole cast was good and had emotional soul particularly the scenes with Sian Phillips. When the cast did 'Tomorrow belongs to me' the hairs were standing up on the back of my neck - wow! The ending was really powerful and hit the emotional spot. I'm so glad I went to see it with this cast.
Reviewed on 25 November 2012 by Anonymous

Tremendous
Reviewed on 28 October 2012 by Anonymous

Excellent show
This is a must, Michelle Ryan was brilliant as was Will young, the story was good and really got it right on parts of the history. You must be 18 to see this show there is quite a bit of flesh showing.
Reviewed on 09 October 2012 by Anonymous

Come to the cabaret my friend
Everything about this show was first class.It contained all the range of emotions. I was enthralled, moved ,involved, excited and impressed from beginning to end. WY's debut to the stage was spectacular. The role was made for him.
Reviewed on 07 October 2012 by Anonymous

Will Young Brilliant!
Aspects of this show were excellent. Will Young was superb. The music and the dancing were excellent. The story didn't hang together well. Michelle Ryan had a hard act to follow after Liza Minelli and she didn't quite make it. Matt Rawle wasn't too convincing either. Newly opened so may improve over time. Worth seeing for the highly talented Will !
Reviewed on 06 October 2012 by Anonymous