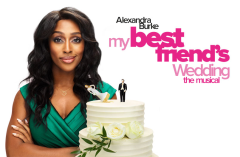 Alexandra Burke stars in My Best Friend's Wedding - The Musical in the titular role of Julianne Potter, who stole hearts in the film of the same name. With its world premiere pencilled in for September 2020, will the stage production see the same success as it did on screen?
This week saw producers Michael Harrison and David Ian announce the world premiere of My Best Friend's Wedding – The Musical, which is set to open at Plymouth Theatre Royal on the 16th of September next year ahead of a UK and Ireland tour. Based on the 1997 film of the same name, Alexandra Burke (of X-Factor fame) will star as Julianne Potter, a 27-year-old restaurant critic living and working in New York City. Originally played by Julia Roberts (Pretty Woman, Notting Hill), the character of Julianne – along with fellow cast members Rupert Everett, Dermot Mulroney and Cameron Diaz – enchanted audiences and critics alike, becoming a global box-office hit.
Three weeks prior to her 28th birthday, Juliane receives a call from childhood friend Michael O'Neal. In four days, he will marry Kimmy Wallace, a picture-perfect 20-year-old student at the University of Chicago. To add insult to injury, Kimmy's family are extremely wealthy, due to the fact that her father is the owner of professional baseball team, the Chicago White Sox. Julianne is devastated, haunted by a pact she had made with Michael in college – that if neither were married by the time they hit 28, they would marry each other. On hearing the news, she discovers her love for Michael and immediately sets off to Chicago, with plans to sabotage his wedding.
The film's appeal as a romantic comedy was furthered by a carefully orchestrated soundtrack, of which Diana King's cover of "I Say A Little Prayer (For You)" made significant steps in its climbing of the US Billboard Hot 100. The score also featured a selection of pop anthems by Burt Bacharach and Hal David – a theme that the live production continues to mirror. With a book by Ronald Bass (who also wrote the screenplay for My Best Friend's Wedding) and Jonathan Harvey (Beautiful Thing, Gimme Gimme Gimme), and direction by Rachel Kavanaugh, there are already whispers of a post-tour transfer to London's West End.
Further casting is to be announced, with tickets on sale soon.