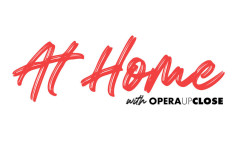 The big theatre companies and prestige venues tend to capture all industry headlines these days so I'd like to give a shout out to OPERA UP CLOSE.
The company grew out of a pocket sized, Oliver Award winning production of La Boheme, which made an asset of a low budget and young performers in a small scale production that triumphed on the fringe and in a West End run at the Soho Theatre qualifying it for the prestigious award. 51% of that Soho audience had never been to an opera before.
Following a residency at the Off West End, King's Head Theatre they focussed on touring, education and more ambitious and innovative productions under the Artistic Directorship of Robin Norton-Hale. In their first year alone they toured to 35 theatres and festivals, with four different productions, and opened three new productions in London.
60% of OperaUpClose's funding comes from the box office so you'd imagine they'd be struggling for survival right now. Instead, however, they brought innovation and successful fund raising to the rapidly expanding on-line steaming sector.
Perhaps their most exciting programme at the moment is commissioning opera for young children. Sometimes it's hard to acquire a taste for the operatic voice later in life so this opportunity to engage with it before your 10 could really develop a generation of life-long fans.
The current piece under development is called PEACE AT LAST and a recent press release announces -
"Our family of bears, harpist and clarinettist have been busy recreating some of the scenes from our Peace At Last opera in their homes. We'll be launching this new strand of online work for families and little ones next week! We're so grateful to the Arts Council England's Covid-19 fund, whose support has enabled us to launch this strand of new work, and to Tony Hales and John Ward for their support of this concert."
Meanwhile, if you fancy a live classical music fix, the company presents what they call COFFEE BREAK CONCERTS.
To watch from your home you simply donate what you'd normally have spent buying a fancy coffee during your afternoon break.
On Wednesday 10 June at 3.30pm the concert will include arias by Puccini and Purcell, songs by Fanny Mendelssohn and Satie, and solo piano pieces by Debussy and Clara Schumann. Performed by Elinor Jane Moran (soprano) and Elspeth Wilkes (piano).
Regular Opera Up Close audience members will apparently recognise Elinor from roles including Mimi (La Bohème), Violetta (La Traviata), Rosina (The Barber of Seville) and Anna (Don Giovanni), and Elspeth as the Musical Director/Pianist on La Bohème, La Traviata, Eugene Onegin and With A Song in Her Heart.
After the 50 minute concert you can join Elinor, Elspeth and the OperaUpClose team for a post-show virtual chat. That bit's free but you will need to book your place by emailing info@operaupclose.com and they'll send you a zoom link on the morning of the event.
If you'd like to find out more about COFFEE BREAK CONCERTS and their on going commissions for young audiences all the details are on the OperaUpClose website.
You can even commission a Coffee Break Concert (from £150).