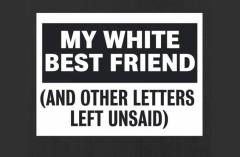 One of the concerns about UK Theatre whilst the country was in lockdown (and theatres are still in lockdown) is that we would miss out on playwrights responding to these extraordinary times.
The Royal Court is of course London's premiere new writing venue and typically they've ensured that this won't happen.
Last week they announced a programme of work provocatively titled MY WHITE BEST FRIEND (AND OTHER LETTERS LEFT UNSAID).
Writer and co-curator Rachel De-Lahay and director and co-curator Milli Bhatia have challenged 10 writers to respond to the statement -
"If you could say what you're really thinking, right now, to the people that need to hear it, what would you say?"
What with the ongoing Covid Crisis and the rise of the Black Lives Matter movement this should be fascinating.
You can book tickets from Monday 6 July at 12noon from the Royal Court website to watch the results on-line Mon 13 Jul - Fri 17 Jul £5 - £12
A new letter by Rachel De-Lahay will be read each night, alongside two letters by, what we're promised are "some of the most exciting voices in the UK."
They include Amma Asante, Elliot Barnes-Worrell, Ryan Calais Cameron, Clint Dyer, Afua Hirsch, Yasmin Joseph, Kuchenga, Tife Kusoro, Lettie Precious and Campbell X.
What you'll see on your screens during each performance are actors reading the letters for the first time in front of a live online audience. Alongside the readings, there will be music from DJ DLK.
Here's a little more background from the press release.
"De-Lahay's provocative act of letter writing, which sparked the festival, engages with racial tensions, microaggressions and emotional labour, asking the privileged to step back to allow the rest of the room to take up space. Originally featured as part of Black Lives Black Words at the Bush Theatre, and after two runs at The Bunker Theatre, My White Best Friend (and Other Letters Left Unsaid) is moving online for the first time in collaboration with the Royal Court Theatre. Like every incarnation of the festival My White Best Friend (and Other Letters Left Unsaid), everyone will be part of the live experience and bear witness to the highs, the lows and the uncomfortable truths."