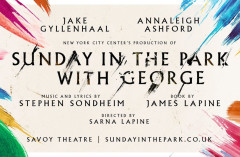 There are certain shows that you know will sell out fast either because of the title or the creative team and stars. In a series of 6 articles we report on the likely box-office smashes of the forth coming year so you can book in advance and not miss out. Use our search engine at the top of the page to find the perfect performance to suit you and get booking!
Show 3: Jake Gyllenhaal in SUNDAY IN THE PARK WITH GEORGE
This is probably London Theatre's most mouth watering prospect of the year. And, what's more, we know it'll be as good as it sounds because it's already received rave reviews in New York.
Hollywood's Academy Award nominee Jake Gyllenhaal is coming to our capital to play the title role in Stephen Sondheim's sophisticated musical SUNDAY IN THE PARK WITH GEORGE.
It's about the impressionist painter George Seurat and the creation of his masterpiece A Sunday Afternoon on the Island of La Grande Jatte. Seurat, of course, was a "Pointillist" meaning he painted by applying tiny dots of colour on to a canvas which the mind of the viewer then combines into a picture. Composer Sondheim set out to create music which mirrors this so there's lots of sharp stabby, little notes reflecting the sharp stabby rhythms of Seurat's paint brushes on his canvas. Luckily both techniques, painter's and composer's, are entirely successful. Viewing the picture transports you to a shimmering summer afternoon in a riverside park in 1890's Paris, whilst the composer artfully blends his score in an equally shimmering and lovely way, nearly a century later.
It's very much a show of two halves. In the first act, joining Jake Gyllenhaal as the artist, will be performers playing figures from the painting as they're being sketched. This includes the lady in the foreground with the parasol who turns out to be Seurat's girlfriend, Dot. ("Dot" see what script writer James Lapine did there? - the pointillist painter has a lover called Dot!) There's lots of stuff from George about creating as an angsty artist type and from Dot about the trials of dating an angsty artist type. Finally there's a magic moment before the interval when everyone moves into their positions as we know them from the painting, an exhilarating tune swells and it's all so beautiful you'll cry.
Act two? Ahem... well somewhat embarrassingly this isn't actually any where near as good. George and Dot are transported through time and reunite at a modern art gallery launching a contemporary instillation inspired by.. anyway there's about 40 minutes of this waffle which even die-hard Sondheim fans tastefully gloss over in their appreciation of the show. But fear not in the final 10 minutes the big tunes swing back in accompanying lyrics about "moving on" which, in the moment, will probably give you your second little weep of the evening.
Honestly, it's a two hanky show!
And as for Mr Gyllenhaal? Apparently his singing is as good as he looks - and in my opinion he looks very fine indeed.
Book for this extremely classy evening HERE a must for all musical theatre fans. Don't miss out.