Quick Facts
Largest Ticket Inventory
in the West End
Real time
seat availability
Choose
your seats
Your booking is processed directly into the box office reservation system
This show is now closed.
Evita
Tickets
4.5/5
-

based on

55

reviews

from

55

verified reviews
Tickets refunded if your event is cancelled
Real time seat availability
Largest ticket inventory in the West End
Secure online booking
This show is now closed.
Keep me informed
Let me know when tickets for Evita are on sale!
Information
Cheap Tickets
Reviews
News
About Evita Tickets
Evita description
"FORGET EVERYTHING YOU KNOW ABOUT EVITA: THIS ONE PROPERLY ROCKS" (Metro)
From a life of poverty to spiritual leader of the nation, Eva Perón was loved, hated, derided and venerated. Dividing the Argentinian people with her patriotic speeches, her ambition, glamour and magnetism established 'Evita' as the world's first major political celebrity.
"A turbocharged, transformative revival" (Daily Mail), Regent's Park Open Air Theatre's sell-out production of Evita comes to the Barbican for 8 weeks only.
With a chart-topping score including Don't Cry For Me Argentina, Oh What A Circus, Another Suitcase in Another Hall, and the Oscar-winning You Must Love Me, Jamie Lloyd directs Tim Rice and Andrew Lloyd Webber's iconic musical.
Casting to be announced
Please note: the images are from the 2019 Regent's Park Open Air Theatre production.
Evita cheap tickets
We have a great selection of cheap Evita tickets. We can help you save up to 70% on Evita tickets! If you're looking for discount theatre tickets have a look below for our latest offers for Evita at the Barbican Theatre.
There are no special offers available at the moment but we still have great ticket prices for Evita at the Barbican Theatre.
Evita reviews
4.5 out of 5
based on

55

reviews
What to expect:
Acting
Music
Costumes
Story
Lighting
Recommended for:

Theatregoers (84%)
Latest customer reviews
Incredible performance !
Great cast, amazing performance - did not want it to end !
Reviewed on 15 September 2019 by Lorraine, Sliema, Malta
Innovative and intense
New explosive take on what is now a classic. The open air setting is perfect for a summer night out. The choreography and its execution was stunning. The cast gave everything they had.
Reviewed on 31 August 2019 by Steve, Burbank, United States Of America
Atmospheric
This show lived up to and performed beyond our expectations
Reviewed on 15 October 2017 by Martin, Grimsby, United Kingdom
A really good performance
I have seen 'Evita' many times-including when David Essex played Che many years ago! This was an excellent performance.
Reviewed on 11 October 2017 by Jillian, Bangor, United Kingdom
emotional
Reviewed on 08 October 2017 by Donald, Seaford, United Kingdom
inspired!
Having seen and much enjoyed 'Evita' in its original manifestation, this time I found it even better than I'd expected. It's such a marvellous story, yet realistically presented - Eva Perón is by no means portrayed as a saint (the inspired character Che sees to that!), yet one can both see how she came to be regarded in a saintly light by the poor and the outcast whose cause she so passionately espoused, and at the same time love her for her faults and weaknesses as much as for her virtues and strengths. Dipping into Wikipedia's long article on the life of the real Eva Perón suggests Lloyd Weber's and Tim Rice's work to be admirably true to historical fact, and inspires one to read the published biographies on whose material Wiki draws. I strongly recommend seeing it, and hope its run will be extended - I for one would go again!
Reviewed on 08 October 2017 by Meriel, Macclesfield, United Kingdom
Not to be missed
Reviewed on 10 September 2017 by Jacqueline, Doncaster, United Kingdom
À great show
Reviewed on 10 September 2017 by Najla, Boulogne Billancourt, France
Evita again
Having seen this a few times over the years my wife and I were just glad to be out in London and what a great surprise it was. The performance captivated us right from the start, it was a strong opening, we loved it all the way through. We were playing the music the next day when walking through Regents Park. Really nice theatre and loved the whole experience.
Reviewed on 05 September 2017 by Penelope, Aberdeen, United Kingdom
Great
Reviewed on 01 September 2017 by Igor, Zagreb, Croatia
A fantastic musical
Reviewed on 30 August 2017 by Anita, London, United Kingdom
Evita rises again
Reviewed on 30 August 2017 by Eric, New York, United States
Powerful singing
Reviewed on 22 August 2017 by Graham, Paddington, Australia
Not to miss
Reviewed on 15 August 2017 by Manos, New Cross, United Kingdom
Excellent production!
Reviewed on 11 August 2017 by John, Horton, United Kingdom
Fantastic
Show was fantastic, some problems with the audio - popping and drop outs
Reviewed on 11 August 2017 by Robert, Chiswick, United Kingdom
Big smile on my face
Absolutely fantastic experience from the moment of walking up, very helpful and friendly front of house staff. We were offered a free upgrade and blessed with incredible seats. The cast were fantastic and so talented, very engaging and I didn't want t to end. I absolutely loved it
Reviewed on 11 August 2017 by Jennifer, Caldicot, United Kingdom
extremely enjoyable
Reviewed on 10 August 2017 by Amrik, Harrow, United Kingdom
I cannot stop singing since the show
I saw the movie with Madonna several years ago. It was a great experience and a sentimental journey to see the show again, in the theatre
Reviewed on 09 August 2017 by Aneta, Warsaw, Poland
real monumental show
Reviewed on 06 November 2014 by Anonymous
Reviewed on 01 November 2014 by Anonymous
tango time
the show was brilliant but the seating was a little unusual. I was sat right behind the person in front who was about six foot two. Usually the seats are staggered so that you look between the shoulders of the people in front not the back of someones head?
Reviewed on 28 October 2014 by Anonymous
The actress featuring as Evita had a very powerful voice.
Reviewed on 26 October 2014 by Anonymous
Thumbs up for Evita but thumbs down for Marti!
Good show overall with excellent performances apart from Mart Pellow's singing which was not on a par with the rest of the cast!
Reviewed on 26 October 2014 by Anonymous
evita
Reviewed on 23 October 2014 by Anonymous
Intense Evita
Evita is a very intense and gripping musical. The singing was fantastic and it was a very professional musical. Unless you know the story it might be hard to follow. We had good seats with no restrictions on the view. Limited showing, so those who like 'serious' musicals it is a must see.
Reviewed on 19 October 2014 by Anonymous
Was too hot
Was too hot nearly fell asleep
Reviewed on 19 October 2014 by Anonymous
Good musical
Reviewed on 18 October 2014 by Anonymous
brilliant show no hassle will come again well done.
Reviewed on 18 October 2014 by Anonymous
Evita was spellbinding
The cast were very good, wonderful voices and excellent sets. I did not know the story of Evita until I bought the programme but you were lead easily through the story.
Reviewed on 10 October 2014 by Anonymous
production was very disappointing
Reviewed on 05 October 2014 by Anonymous
Evita
Superb from beginning to the end. A great and easy to follow musical and first class cast,
Reviewed on 29 September 2014 by Anonymous
Deafened by screaming
The first half volume of the music was so loud it distorted the singing. The delay to the second half due to safety curtain failure did not help the show
Reviewed on 26 September 2014 by Anonymous
It could have been better
If I am honest, I have to say that Evita was too old and Marti Pellow was not right for the Che character. Senior Magalde was fab and the sets were great. That's my summary! Need some oil for the safety curtain mechanism!
Reviewed on 26 September 2014 by Anonymous
An average musical, I was a bit disappointed. The sound effects where far too loud during the show.
Reviewed on 25 September 2014 by Anonymous
fast moving brilliant musical
Reviewed on 22 September 2014 by Anonymous
Acoustics need improvement
Theatre is beautiful. Champagne bar and arrangements for interim orders provides an upscale ambience.
Reviewed on 21 September 2014 by Anonymous
Amazing show
Female lead role was amazing and what a voice
Reviewed on 21 September 2014 by Anonymous
13

Jul
2017

EVITA is back and should be better than last time!
by Phil Willmott | Thursday, July 13 2017, 07:34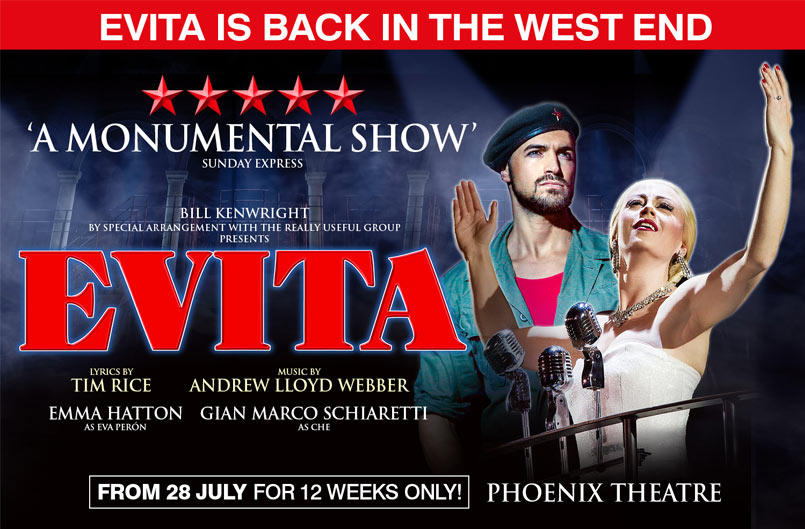 Producer Bill Kenwright's rather elegant production of the classic Tim Rice, Andrew Lloyd Webber musical Evita is headed black to the West End and it's going to be much better than the last time.
How can I be so sure? Well there are two very good reasons. The first is that the most recent revival was at the cavernous Dominion Theatre, a huge place the saps most shows of any personality - although not the current show An American in Paris, which is an absolute delight from beginning to end and which you should definitely try and catch.
EVITA is back and should be better than last time!