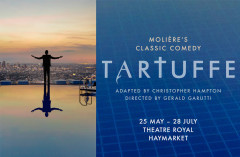 Like most critics I had a very bad time at the revival of classic French comedy TARTUFFE, currently playing at the Theatre Royal Haymarket (read my review here) so it's no surprise that the pretentious muddle is struggling to attract an audience.
It's awful when a show bombs, I've worked on a few turkeys in my time and when the euphoria of press night switches to the misery of facing a sea of empty seats while your friends try to be diplomatic it's deeply depressing. It can also be a wake-up call to the show's stars who are shocked to find their fan base deserts them.
In an unexpected move Tartuffe producer Oliver King has admitted "Our production's interpretation of Moliere's classic script is dividing audiences and critics alike".
To be fair I'm not sure "divided" is an accurate description. It suggests the production has some fans countering the negativity. I've yet to meet any. But King, who's finances must be haemorrhaging, is pluckily trying to turn the situation to his advantage.
Today he announced "We want as many people as possible to join in the debate, and as such, we have taken the radical step of offering audiences the chance to enjoy all seats for midweek performances at £25, when booked online via the theatre's website or in person at the box office."
So the idea is that you spend £25 to see a show that everyone tells you you'll hate, just in case you don't. With so many ticket bargains around for really great shows is anyone really going to do that?
We shall see. Good luck Mr King we admire your chutzpah!
Just in case you are tempted to give him your £25 here's some background of the show as described by their PR team.
"This adaptation of Tartuffe alternates between English with French surtitles, and French with English surtitles to reflect the unfolding plot. Written in 1664, Tartuffe, or The Impostor became regarded as one of Molière's most celebrated comedies, complete with some of the greatest classical theatre roles. Set present day in Donald Trump's America, the play's trenchant mockery of human frailties remains as relevant as ever in this darkly comic adaptation of the classic satire"
Got that? The poor cast comprises of -
Paul Anderson as Tartuffe (Peaky Blinders, The Revenant), George Blagden as Damis (Versailles, Vikings), Nadia Cavelle as Flipote (Beautiful Damned, Antigone), Jaz Deol as Valère (The Halcyon, Code of a Killer), Sophie Duez as Eliante (Don Juan, Midsummer Night's Dream), Zachary Fall as The Officer (Poldark, Versailles), John Faulkner as Monsieur Loyal (Little Boy Blue, Mary Queen of Scots), Audrey Fleurot as Elmire (Spiral, The Intouchables), Paikan Garutti as Laurent (Songe d'une nuit d'été, Courteline), Annick Le Goff as Madame Pernelle (Le Petit Lieutenant), Claude Perron as Dorine (Amélie, Chrysalis), Sebastian Roché as Orgon (Man in the High Castle, Vampire Diaries, Young Pope), Olivia Ross as Mariane (War & Peace, Shakespeare's Globe: A Midsummer Night's Dream) and Vincent Winterhalter as Cléante (Spiral, Nicolas Le Floch)