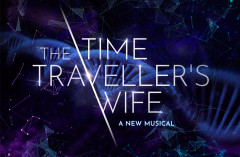 It's all go for the musical of the best-selling book and movie, The Time Traveller's Wife. Auditions take place for the role of Young Clare at the Storyhouse Chester on 25th July, where the musical premieres from 30th September 2022 for two weeks. Then it's heading for the West End, to a venue that'll be announced soon. This is your chance to see the musical of the best-selling time travel romance that has delighted millions.
Who's involved in The Time Traveller's Wife: The Musical?
Ordinary couples have to work hard to truly know one another, trust each other, commit to one another, build a family, and work to achieve something bigger than themselves. How do you do all that when your husband is a time traveller? How, exactly, do you love each other across time? Experience this beautiful story for yourself, set to music.
Based on the best-selling novel by Audrey Niffenegger and the New Line Cinema film screenplay by Bruce Joel Rubin
The two-week season at Storyhouse precedes a West End transfer - to be announced
The Time Traveller's Wife: The Musical original musical score is by the multi Grammy Award-winning composers Joss Stone and Dave Stewart
The director is Bill Buckhurst
Book by Lauren Gunderson
Additional lyrics by Kait Kerrigan
Designed by Anna Fleischle
Choreography by Shelley Maxwell
Lighting design by Lucy Carter
Illusions by Chris Fisher
Video design by Andrzej Goulding
Sound design by Richard Brooker
Musical supervision & arrangement by Nick Finlow
Orchestrations by Bryan Crook
Casting will be by Grindrod Burton Casting
The show will be produced by Colin Ingram for InTheatre Productions, Gavin Kalin Productions, Teresa Tsai and Crossroads Live, by special arrangement with Warner Bros. Theatre Ventures
Buy The Time Traveller's Wife: The Musical Tickets
Buy cheap The Time Traveller's Wife: The Musical tickets online via our site for exceptional service. Once tickets are released you can choose great views using our West End theatre seating plans. Then just show your etickets at the door on the day. It's easy and fast.