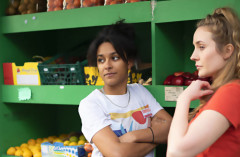 If you love London Theatre in all its variety, size, shape and form there's always plenty explore beyond the bright lights of the West End.
One venue you might like to check out is Theatre 503 in Battersea, South London, particularly if you're interested in new writing.
Despite its location it's become a vibrant hub of emerging writers and topical plays which the theatre industry keeps a keen eye on. They can proudly boast of staging "the work of more debut and emerging writers than any other venue in the country, 161 in the last year alone".
The ethos behind the work is a passionate belief that "the most important element in a writer's development is to see their work developed through to a full production on stage, performed to the highest professional standard in front of an audience".
Next up Damsel Productions presents the World Première of THE AMBER TRAP by Tabitha Mortiboy playing at the venue 24 April – 18 May.
Damsel are an interesting company who seem bursting with good ideas. Founded in 2015 their aim is to place women's voices "centre stage" to this end they "bring together women directors, producers, designers and all other creatives to breathe life into scripts exclusively written by women. Damsel Productions aim to provoke, inspire and entertain with true and honest representations of the female experience".
Their recent press release describes the plot of their latest production as "a chilling portrait of craving and control" and intrigue us with the following taster of the plot.
"Katie and her girlfriend Hope work at their local corner shop, where the days pass in quiet, comfortable rhythms. For Katie, the little shop is a sanctuary. A place where she can hold onto Hope without anybody watching. But when new employee Michael arrives, the sands start to shift and the air begins to thicken".
After years of being overlooked in British Theatre female directors, producers and writers are at last being taken seriously. There's little doubt that women, especially young women, are becoming a powerful forces within the industry. All the more reason to check out the work of emerging artists who look set to dictate the agenda of our theatre going in the years ahead.
Damsel sound like a company that are well worth your attention.