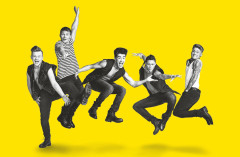 Have you got your tickets for the much anticipated musical THE BAND yet? Based on how popular it's been around the UK you should book soon. It's the fastest selling musical theatre tour of all time!
One of the main attractions is a jukebox score that features the hits of one of Britain's most successful recording artists of all time TAKE THAT, including Never Forget, Back for Good, A million Love Songs, Greatest Day, The Flood, Relight My Fire, Shine & Rule the World.
All these irresistible songs are presented as part of a show that tells the story of five 16 year old female fans in the 1990s who are obsessed with the group. We also meet them 25 years later and discover how the music has remained central to their lives, as they plot to meet their heroes in real life.
This plot (writer Tim Firth) is a canny move and borrows a winning multi-generational formula from the ABBA show MAMMA MIA which also satisfies both fans of today and their mums.
It was cast via a TV show which gave the public a vested interest in the winning performers who get to represent TAKE THAT on stage as a fictional group called FIVE TO FIVE. The line up is AJ Bentley, Nick Carsberg, Curtis T Johns, Yazdan Qafouri and Sario Solomon. These guys more than proved they're up to the job throgh all the challenges they were asked to conquer on the prime time Saturday night show, LET IT SHINE.
It's all staged by the team behind the real TAKE THAT's live concerts led by experienced pop director Kim Gavin who has both a Brit and BAFTA Award to his name.
TAKE THAT's lead singer Gary Barlow has said of Kim "He's a great leader - He'll change a few things, but he was one of the first people we worked with who gave us enough scope to feel the show was our own. We just clicked with Kim, he would even finish our sentences for us, and from that moment on he became a pivotal part of every Take That live show".
This sought after director has worked with alongside many greats Westlife, Pink, Robbie Williams, Anastacia, Darcey Bussell, Katherine Jenkins and Torvill & Dean and he even Artistic Directed the closing ceremony of the London 2012 Olympic and Paralympic Games.
Word from cities that have already seen this show is that London Theatre goers are in for a treat.
Grab a ticket for what's bound to be the West End's most popular show this Christmas.