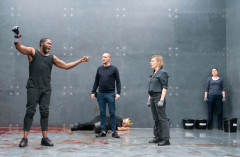 With the Almeida's production of Richard II, starring Simon Russell Beale stripped back to 90 minutes and getting rave reviews there's never been a better time to encounter one of Shakespeare's most poetic plays.
Here's a run down of the plot if it's new to you.
Beginning with two of the King's most trusted Dukes, Bolingbroke and Norfolk being banished, we immediately find a flawed leader who is making questionable choices. When Bolingbroke's father, John of Gaunt, dies - mostly from sorrow for his son's banishment - the misguided ruler makes matters worse for himself by ignobly seizing the dead Duke's estate.
Far from happy with the leadership, strong political figures that surround the King (including Bolingbroke, who has secretly returned from exile), are vocal in their criticism of the King for wasting money on stupid policy and hurting the common people (ahem). The King's lands are claimed, and his favourites executed, all in Bolingbroke's name.
Upon hearing rumour that the King is dead his army disbands, the commoners revolt and realising that he has lost control of England, the King goes into hiding. Peace seeking, religious guilt ridden Bolingbroke asks Richard to revoke his banishment and hand over the crown but the stubborn King refuses and is imprisoned.
Parliament force him to confess his crimes against England and he is forced to hand over the crown to Bolingbroke – later King Henry IV.
More surprising and well-pitched laughter ensues when Richard's loyal subject Aumerle, plots to poison Henry IV. His parents' squabble as they treat us to a bit of domestic tension amid the heavyweight issues, fighting over their traitorous son.
In a cleverly crafted moment that bats us between comedy and tragedy, Richard and Bolingboke fight over the crown which, by now, represents a heavy burden for either.