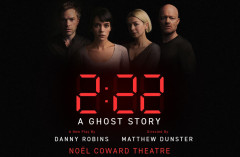 Update for 2:22 – A Ghost Story at the Noel Coward Theatre
Runaway Entertainment is delighted to present a dazzling new play by Danny Robins that's guaranteed to keep you right on the edge of your seats. Welcome to 2:22 - A GHOST STORY, a fantastically scary supernatural thriller about four friends directed by Matthew Dunster. Lily Allen, who is famously passionate about live performance of all kinds, stars as Jenny, and she is by all accounts thrilled to be part of this brilliant new show. The fun kicks off on 3rd August.
Who's involved in 2:22 A Ghost Story?
There's something in the house. Jenny hears it at the same time every night. But her husband Sam is sceptical. The couple and their dinner guests argue about it. Do the dead really walk again? Whatever is going on, something just doesn't seem quite right and they all feel uneasy. So they decide to stay awake until 2:22 and see what happens. Dare you come along and find out the terrifying truth?
Lily Allen makes her West End debut playing Jenny
Hadley Fraser, loved in City of Angels, plays Sam
Julia Chan, who wowed us in Silent House and Katy Keene, plays Lauren
Jake Wood of EastEnders fame plays Ben
Playwright Danny Robins' hugely successful podcast The Battersea Poltergeist is being made into a series for TV – and this is his West End debut.
Director Matthew Dunster is an Olivier Award-director whose productions of Martin McDonagh's A Very Very Very Dark Matter and Hangmen, and Sam Shepard's True West, attracted considerable critical acclaim.
Set design by Anna Fleischle
Costume design by Cindy Lin
Lighting design by Lucy Carter
Sound by Ian Dickinson for Autograph Sound
Casting by Jessica Ronane CDG
Illusions by Chris Fisher
Buy 2:22 A Ghost Story Tickets
Book your 2:22 – A Ghost Story tickets online through us and enjoy great views and fab seats thanks to our handy Noel Coward Theatre seating plan. We'll send your E-tickets to your email address. All you do is present them at the door on the day of the performance.
About the Noel Coward Theatre
The Noel Coward Theatre was built in 1903 during a golden era when new theatres were springing up all over the West End. This was home to the Tony-award winning musical Avenue Q, which marked the name change from the original 'New Theatre'. More past shows at the Noel Coward theatre include Photograph 51, starring Nicole Kidman, Half A Sixpence, and The Inheritance by Matthew Lopez.