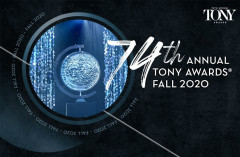 The Tony Awards, recognising excellence in New York theatre, always feel a little more glamorous than The Olivier's, London's equivalent.
Maybe it's the "A list stars" in the audience or maybe it's the extravagant opening numbers which are often a talking point for weeks to come.
A month or so ago this year's awards looked unlikely to happen due to the Covid crisis but happily they're moving on line according to an announcement from their organizers Tony Award Productions.
To give the prize its full title this year we'll be enjoying THE AMERICAN THEATRE WING'S 74TH ANNUAL TONY AWARDS.
It's not plain sailing though. There's still some debate about which shows will or should be eligible. For instance, according to the New York Times, only the 18 shows that opened before February 19 2020 can be considered because there wasn't time to give further productions sufficient adjudication after this date.
So that's bad news for British productions SIX, COMPANY and GIRL FROM THE NORTH COUNTRY.
Charlotte St. Martin, President of the Broadway League, and Heather Hitchens, President & CEO of the American Theatre Wing said –
"Though unprecedented events cut the Broadway season short, it was a year full of extraordinary work that deserves to be recognized. We are thrilled not only to have found a way to properly celebrate our artists' incredible achievements this season, but also to be able to uplift the entire theatre community and show the world what makes our Broadway family so special at this difficult time. The show must go on, no matter what - and it will."
Additional information, including a date and platform for the awards ceremony, will be announced soon. The Tony Awards are presented by The Broadway League and the American Theatre Wing.