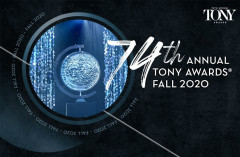 There's still some debate about which shows will or should be eligible for this year's prestigious Tony Awards, recognising excellence in New York theatre, which this year will be streamed on-line.
According to the New York Times, only the 18 shows that opened before February 19 2020 can be considered because there wasn't time to give further productions sufficient adjudication after this date.
To date the following productions WILL be under consideration. Shows with British Theatre connections are in bold.
Broadcast dates for the awards are still to be announced.
Best Musical
JAGGED LITTLE PILL
MOULIN ROUGE! THE MUSICAL
THE LIGHTNING THIEF: THE PERCY JACKSON MUSICAL
TINA - THE Tina Turner MUSICAL
Best Play
A CHRISTMAS CAROL
GRAND HORIZONS
LINDA VISTA
MY NAME IS LUCY BARTON
SEA WALL/A LIFE
SLAVE PLAY
THE GREAT SOCIETY
THE HEIGHT OF THE STORM
THE INHERITANCE
THE SOUND INSIDE
Best Revival Of A Play
A SOLDIER'S PLAY
BETRAYAL
FRANKIE AND JOHNNY IN THE CLAIR DE LUNE
THE ROSE TATTOO
Leading Actress in a Musical
Karen Olivo, MOULIN ROUGE! THE MUSICAL
Elizabeth Stanley, JAGGED LITTLE PILL
Kristin Stokes, THE LIGHTNING THIEF
Adrienne Warren, TINA
Leading Actor in a Musical
Chris McCarrell, THE LIGHTNING THIEF
Aaron Tveit, MOULIN ROUGE! THE MUSICAL
Leading Actress in a Play
Jane Alexander, GRAND HORIZONS
Zawe Ashton, BETRAYAL
Elieen Atkins, THE HEIGHT OF THE STORM
Joaquina Kulakango, SLAVE PLAY
Laura Linney, MY NAME IS LUCY BARTON
Audra McDonald, FRANKIE AND JOHNNY IN THE CLAIR DE LUNE
Sally Murphy, LINDA VISTA
Mary-Louise Parker, THE SOUND INSIDE
Marisa Tomei, THE ROSE TATTOO
Leading Actor in a Play
Ian Barford, LINDA VISTA
Andrew Burnap, THE INHERITANCE
Brian Cox, THE GREAT SOCIETY
Charlie Cox, BETRAYAL
James Cromwell, GRAND HORIZONS
David Alan Grier, A SOLDIER'S PLAY
Jake Gyllenhaal, SEA WALL/A LIFE
Tom Hiddleston, BETRAYAL
Will Hochman, THE SOUND INSIDE
Samuel H. Levine, THE INHERITANCE
Jonathan Pryce, THE HEIGHT OF THE STORM
Campbell Scott, A CHRISTMAS CAROL
Michael Shannon, FRANKIE AND JOHNNY IN THE CLAIR DE LUNE
Kyle Soller, THE INHERITANCE
Tom Sturridge, SEA WALL/A LIFE
Blair Underwood, A SOLDIER'S PLAY