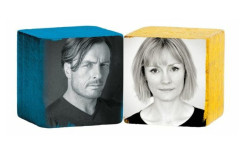 It's been announced that veteran producer Howard Panter (with Eilene Davidson Productions) will be presenting 1960s classic A DAY IN THE DEATH OF JOE EGG at the Trafalgar studios this Autumn.
Panter, with his wife Rosemary, has been a significant force in UK Theatre for some decades now, building up the formidable Ambassadors Theatre Group (or ATG as it's known) to the point where the company owns a raft of significant theatres across the country, in the West End and in Australia and on Broadway. In fact the company became so successful that he was able to sell it recently for a large sum and take life a little easier. However he retained control of one theatre, the bijou West End house Trafalgar Studios, rather brilliantly converted from the old Whitehall Theatre into two smaller auditoria. It's mostly home to visiting productions but every now and then he helms a production there himself. This is one of them.
Written by Peter Nichols A DAY IN THE DEATH OF JOE EGG is a dark, very dark, comedy-drama about a couple bringing up a disabled child with wry and irreverent humour that masks the pain and desperation beneath. It contains two huge roles for youngish leading actors and I've seen some superb former productions, one starring comedian Eddie Izzard and another with Clive Owen in the lead.
On this occasion "Joe Egg's" mum and dad will be played by Toby Stephens & Claire Skinner. The press release rather breathlessly describes them as "two of the greatest actors of their generation"
I wouldn't go that far but they each have a string of impressive CV credits and much is made of the fact that 18 years ago they starred together in a TV show called PERFECT STRANGERS; this if the first time they've worked together since. Stephens was terrific in recent productions of PRIVATE LIVES and in the National Theatre's hit about the Arab-Israeli conflict, OSLO. Skinner is perhaps best known for playing the long suffering mum in the sit-com OUT NUMBERED.
Based on the playwright's own experiences, the play's clash of personal tragedy with the sarcasm of its central characters is frequently and unexpectedly funny, but it's truthful, poignant and moving too and usually makes for an uncomfortable but rewarding evening's theatre.
I believe this is the first major production of the play this century. It will be interesting to see whether it feels dated but that shouldn't be a problem if it's presented as a period piece with 1960s costumes and attitudes.
Tickets are on sale right now for the run which begins in October and I think you can book with confidence knowing that you're likely to get a well acted intelligent evening of provocative drama.