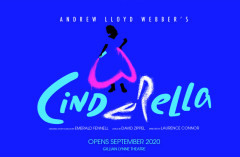 Andrew Lloyd Webber and his team have done a fantastic job of drip feeding us snippets of gossip about his new musical CINDERELLA during lockdown whilst the opening night has been delayed by the pandemic.
Of course we now have a date for much anticipated first performance, which you can see at the Gillian Lynne Theatre on 25 June, with an original story and book by 2021 OSCAR winner EMERALD FENNELL (Promising Young Woman) and lyrics by Tony & Olivier Award winner DAVID ZIPPEL (City of Angels). LAURENCE CONNOR (Joseph and the Amazing Technicolour Dreamcoat, School of Rock) directs with choreography by JOANNE HUNTER
If you've been following all the pre-publicity you'll be as excited as I am to see the finished show. Over the past months we've met the actors playing the romantic leads and been treated to a number of the songs which will feature. You can catch up on all things Cinders by checking out the show's official website.
There you have a chance to discover some of the big sweeping melodies long before the first audience hear them and you'll find a number of video clips including a recently released, two minute conversation between ALW and the musicals story and script writer Emerald Fennell.
It contains some gorgeous footage of the charismatic cast at a photo shoot and shares a few fresh revelations to add to those already released. In it we learn -
There'll be no stinting on the fairy-tale elements that we all love about the original.
It's a take of self discovery and finding yourself
It's set in a mythical kingdom called Belleville that's the epitome of a storybook kingdom.
It's so picture perfect there that our heroine, Cinderella, is exhausted by it all.
In this version it's all controlled by a sinister fairy godmother character who has carefully crafted all the perfection.
The Prince has vanished thrusting his younger brother into the spotlight after a life time of being over looked.
His relationship with Cinderella develops from a childhood friendship rather than the love at first sight, brief encounter that we're used to.
In fact all the iconic moments are still place - the transformation, the ball, the lost slipper etc and we can expect real warmth and humour BUT with a few other twists to give it all a slight edge.
The story won't be ending with Cinderella finding her lost slipper and the prince of her dreams.
The musical takes the plot beyond this point so we can expect to discover the consequences of the events we know and love.
Making the best of the show's delay in its journey to opening night the publicists have succeeded in ensuring we know far more about this new show than is usually the case. By the time we get to see it it'll feel like a much anticipated encounter with an old friend.
Which means that we can we can all book safe in the knowledge that we'll have a lovely time.